Rand Paul announced his presidential campaign today. His platform?
"I have a message — a message that is loud and clear and does not mince words. We've come to take our country back."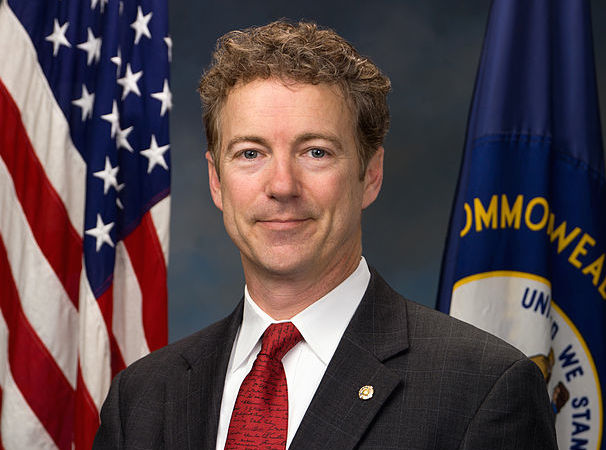 Here's 15 more things Rand Paul wants to take back…
1. A buck fifty that got stuck in the Senate Cafeteria vending machine. Didn't even get the damn candy bar. It would fiscally irresponsible not to get that money back.
2. The four dollar adult admission he paid at the Thomas D. Clark Center for Kentucky History in 2013. It was worth $3.50 at best. At best.
3. The time he got a bit tipsy with a lobbyist and dared to question the 2nd Amendment's meaning in the 21st century. What if that guy remembers that conversation too…
4. In the 7th grade, he told his buddy Tim that he kind of liked Suzie Baker, and he'd really like to take that back, not because it wasn't true but because Tim spread it all over, and it turned out Suzie didn't like him back, and that was pretty embarrassing at the time, although in the grand scheme of things it probably built his character or something, or at the very least it didn't matter.
5. H.R. 2149 (2011), a bill to designate the facility of the United States Postal Service located at 4354 Pahoa Avenue in Honolulu, Hawaii, as the "Cecil L. Heftel Post Office Building" was, in retrospect, one of the biggest assaults on freedom during Barack Obama's first term in office, and he's going to take that back. If he could do one thing over in the Senate, that would be it.
6. The life of a man he killed in Reno just to watch him die. Carson City was obviously the better choice for location and what was he thinking?
7. A particularly smart-alecky comment he made to Ron Paul at age 15. It was pretty uncalled for and his dad didn't deserve that kind of attitude.
8. Some of the defense cuts he proposed in 2011. Man, he forgot how sweet some of those fighter jets and bombers can be.
9. The wedding ring he accidentally lost down the sink one day and had to rush to find a replacement before anyone noticed. The original was his great-grandfather's.
10. Any opinions he's expressed publicly since 2010 that would now make it hard to win a Republican primary or general election campaign for president.
11. His refusal to hang a tire swing for his kids all those years ago. They would have loved that thing.
12. That one time he took the Lord's name in vain. You know, that time.
13. That interview during the 2010 campaign with Rachel Maddow.
14. The 6th answer he entered on the Buzzfeed quiz about which friend from "Friends" you really are. It threw off the overall result.
15. The Breaking Bad spoiler he accidentally let slip to Orrin Hatch, thus making an enemy for life. But like, "Ozymandias" was just so masterful!