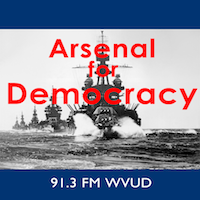 Description:
Nate and Greg join Bill to talk about rising vaccine hysteria, the importance of public vaccinations, and how the "debate" fits into the broader arc of American politics and ideology. European correspondent Persephone looks at the debate over Spanish time zones and siesta culture. Finally Nate, Greg, and Bill look at Crimea in the context of other separatist/independence movements, such as Scotland and Catalonia.
Part 1: Part 1: Vaccines – AFD 76
Part 2: Part 2: Siesta Culture – AFD 76
Part 3: Part 3: Independence Movements – AFD 76
Note 1: This week, the online/podcast version contains an additional segment not aired on WVUD for time purposes. The whole episode with all 3 segments this week is an hour long.
Note 2: This week, the online version is split into one file for each segment. To get one file for the whole thing, we recommend using one of the subscribe links at the bottom of the post.
Related Links
– Mother Jones: Study: You Can't Change an Anti-Vaxxer's Mind
– BBC: Analysis: Why Russia's Crimea move fails legal test
– Slate: Crimea referendum: Is the U.S. hypocritical about which independence movements it supports?
– The Globalist: A History of Spanish Autonomy
– The Globalist: Spain Urgently Needs Consolidation
– The Globalist: To Secede or Not to Secede: The Case of Europe
Subscribe
RSS Feed: Arsenal for Democracy Feedburner
iTunes Store Link: "Arsenal for Democracy by Bill Humphrey"