Russian troops and helicopters seized the coastal village of Strilkove in Ukraine's Kherson region earlier today. The village is located on a very narrow strip of land (generally only about as wide as the length of a football field), called the Arabat Spit, that acts as a barrier between the Sea of Azov and salt lagoons next to the Crimean peninsula.
I labeled a Google Map of the area with relevant points (click to enlarge):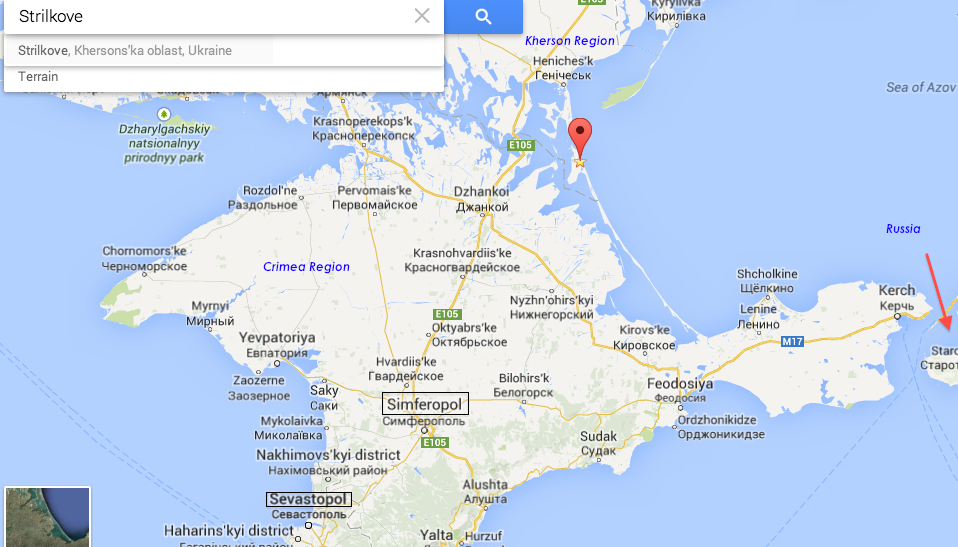 Although this could be viewed as simply a further consolidation of the larger neighboring peninsula, since the spit of land is actually not connected to Kherson, but rather to Crimea (which governs the southern half of the spit), it is nonetheless a serious new provocation because it is the first attempt to seize territory that is administratively part of a mainland region in Eastern Ukraine. This is not likely to be welcomed with open arms.
Additionally, (according to Ukrainian news at least) the Russian troops also attempted to push northward toward the mainland, before being repulsed by the Ukrainian military. The situation, now in flux, seems to be that the Russians are still in Strilkove but no further.
Update: The intent appears to have been to secure a gas-fired power plant supplying electricity to Crimea, to prevent the lights being turned off. The power plant is in Russian hands now, according to the New York Times.

From the AP on the initial assault:
Russian forces backed by helicopter gunships and armored vehicles Saturday took control of a village near the border with Crimea on the eve of a referendum on whether the region should seek annexation by Moscow, Ukrainian officials said.

The action in Strilkove appeared to be the first move outside Crimea, where Russian forces have been in effective control since late last month. There were no reports of gunfire or injuries.

You can read an English-language statement from the Ukrainian Foreign Ministry on the occupation of Strilkove.