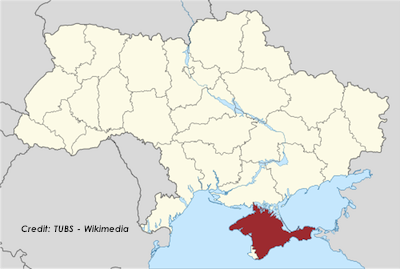 The "results" are in and Russian-occupied Crimea has voted to join the Russian Federation, by the overwhelming margin of 90%.
Curiously, despite a significant boycott (for example, the 14% of the population identifying as Crimean Tatars nearly universally refused to participate), election officials were "surprised" to see a 75% turnout rate, an unprecedented level in Crimean elections in the past two decades.
"This has never happened before in any other election" in Crimea, said a senior election official, Mikhail Malyshev, at a news conference.

So you're telling me that in a contentious vote held under military occupation, more people than ever before showed up to vote, and did so almost unanimously in the preferred direction of the referendum's backers? No way is that suspicious…

Next stop: Western sanctions on Russia. The European Union is already kicking things off by having their Ambassador to Russia tell whiney European businessmen and investors to suck it up as the gates slam shut.
The current EU Ambassador to Russia is from Lithuania — the first of the former Soviet Republics to declare independence from Russian rule, in 1990, and no friend of Russian interventions in Eastern Europe — and frankly he doesn't care if your business interests are going to be hurt because it's time to punish Russia and you need to deal with it.
"Sending a Lithuanian envoy to Moscow is like sending an Israeli envoy to Iran," said one participant.

no1curr, bro. You've had five and a half years since Russia last went to war with a neighbor to realize one of these days the world might actually do something about it. Now is too late. If you wanted a safe investment, you probably shouldn't have invested in the rogue state with no rule of law.