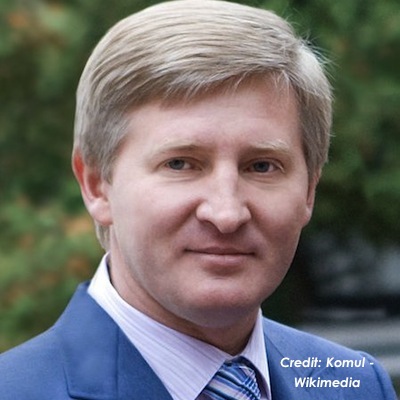 Whoomp, there it is. Donetsk's Man-Who-Owns-Everything, Rinat Akhmetov, finally got off the fence and told some of the separatists to go kick rocks. He ejected them from the government buildings they were "occupying" in the oblast's second-largest city, Mariupol, and sent his own private workers to start cleaning up so local public functions could resume.
The steel-and-coal magnate is #92 on the Forbes list of the world's richest people, with a net worth of $12.2 billion. (The next-richest person in Ukraine is #548 and "only" has a net worth of $3.1 billion.)
It remains to be seen if he will take similar action against separatists in other cities of the Donetsk Oblast, such as the city of Donetsk itself. (There are allegations that some of the country's other oligarchs may now be funding private pro-unity militias against the separatists.) The port city of Mariupol, on the Sea of Azov coast (see map below), was relatively removed from the center of the clashes between separatists and troops sent by Kiev.
However, in a video statement, Akhmetov took a very firm stance against independence or annexation to Russia, while backing greater regional autonomy:
Until now, Akhmetov had been notable for his noncommittal stance during the turbulence that has for more than a month gripped the region that is home to his most lucrative industrial assets.

A video statement by the 47-year-old industrialist on Thursday made it clear that his loyalties are not so much with the Kiev government but with his native Donbass – territory that encompasses the Luhansk and Donetsk regions. He called for major constitutional reforms, while preserving a united Ukraine.

"This is when power goes from Kiev to the regions. This is when authorities are not appointed but elected. And this is when local authorities take responsibility for people's real future," he said.

Independence or absorption into Russia would spell economic catastrophe for the region, he added.

On a related note, the Russian Federation government is, in the words of English-language Russian state media outlet Russia Today, "in no rush to respond to Donetsk People's Republic plea for accession." They are moving far more slowly and cautiously in response to the controversial referendum this past week than they did with the one in Crimea, where they wrapped up the seceding region right into the Federation within days. Unlike in Crimea, Russia withdrew support for the eastern referenda before they took place.