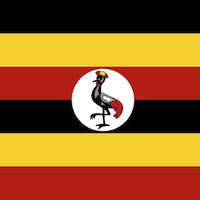 A new Al Jazeera article takes us inside the Ugandan MP debt crisis that is rapidly devolving into farce. Essentially, the elected members of Uganda's parliament are massively paid by peer standards but somehow are also, almost across the board, massively in debt.
Interviewees vaguely cited failed business investments as if that were a common affliction of the world's elected officials. Others cited a need to spend personal money to buy votes to be re-elected to keep the money coming. At this point, the MPs believe the only solutions are a huge pay raise (from taxpayers) or bailout (from anyone willing to buy their support).
Here are the 5 craziest things I learned from the eye-popping piece:
Uganda's members of parliament, who are part of Uganda's nearly three-decade-old quasi-democracy, were given a huge bribe pay raise to remove presidential term limits in 2005. They now claim President Museveni — Africa's 5th-longest-serving leader — is intentionally blocking further pay raises. Why? Supposedly, so he'll have leverage for future bribery incentivizing along the same lines.
Despite how much money they made already, Uganda's MPs are making new innovations in greed, spending sprees, and legalized theft of public resources. Debt aside, they now legally earn $7,680/month in a country where the average annual income is $510 and per capita GDP is $558. In 2011, many of them voted themselves $8,000 extra in one-time grants to "supervise government projects."
The parliament, as an institution, literally started lending money to its own members to help them out. Eventually the non-elected staff cut the MPs off from this source of cash because other creditors were then hounding the parliament to pay off debts or collect loans back.
A Chinese bank actually tried to buy off the whole parliament by purchasing up the debts (probably in exchange for political support later) and giving better repayment terms to the MPs. These members of parliament were so greedy and unwilling to face reality they basically tried to accept this openly corrupt (and unpatriotic?) proposal. They blame the president again for stopping this brilliant plan.
Uganda still has debtors' prisons! This is where some MPs have already started getting hauled off to, when they fail to make good on their debts, like some sort of Dickensian version of House of Cards.
One suspects that these MPs, who are the same ones voting through radical anti-gay legislation handed to them by American evangelical activists, are not exactly the brightest lights in Ugandan society. But I suppose that comes with the territory when real governance power is removed from the parliament and transferred to an autocratic executive who has ruled for 28 years. Tends to discourage better candidates from seeking office.