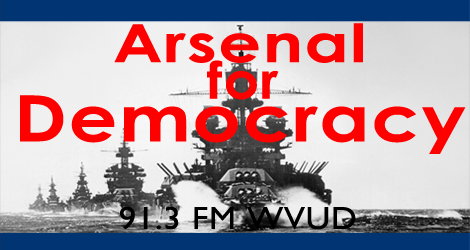 Topics: Big Ideas – Zero-Tuition Public College; Greek elections. People: Bill, Nate. Produced: January 26th, 2015.
Discussion Points:
– Big Ideas for Reforming American Governance: Should the federal government offer a zero-tuition 4-year public college system? Is this feasible?
– How will Syriza's win in the Greek elections affect Greece and the EU?
Episode 115 (46 min)
AFD 115
Related links
Segment 1
– ThinkProgress: How Obama Could Make College Free For Everyone Without Spending A Dime
– EdWeek: Some Higher Education Advocates Wary of President's Free Community College Plan
– The Atlantic: Is There a Better Way to Deal With Student-Loan Debt?
Segment 2
– AFD: The Questions Posed by World's 2015 Elections
– AFD: Syriza-Independent Greeks coalition takes office
Subscribe
RSS Feed: Arsenal for Democracy Feedburner
iTunes Store Link: "Arsenal for Democracy by Bill Humphrey"
And don't forget to check out The Digitized Ramblings of an 8-Bit Animal, the video blog of our announcer, Justin.
Podcast: Play in new window | Download
Subscribe: RSS