It never ceases to amaze me how many current analyses of "polarization" between the parties in Congress skip over the multiple waves of party-switchers and solid-partisan district flips in the Solid South (and to a less noticeable extent the northeast in the opposite direction) from the late 1960s into the late 1990s.
Instead, the story is framed along the lines of "Oh my, where did this polarization come from? It just magically appeared! Why don't they work together like they used to!"
Well, it was pretty easy to work across party lines when the Segregationist Pro-Corporate-Welfare Anti-Communist Democrats could vote together with the Ultra-Conservative Anti-Regulation Anti-Communist Republicans, while the liberal Democrats voted with the progressive Republicans.
Chart 2 at this link shows a pretty clear peak in party overlap on votes between the 1965 Civil Rights Act and the formal 1968 launch of the Republican Party's Southern Strategy in Nixon's first successful presidential campaign, which started to break and convert the Solid South from the Democrats to the Republicans.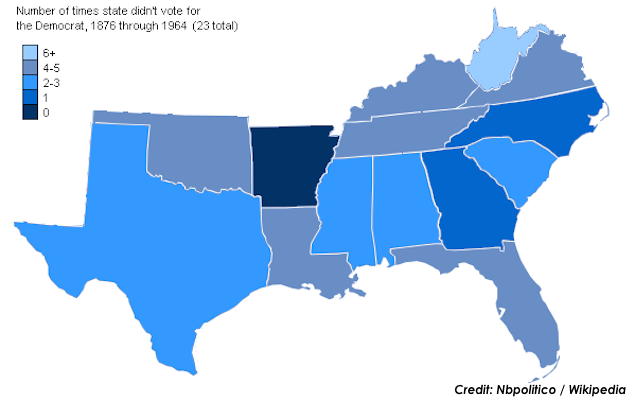 In other words, before then, there was a phase where large sections of each party's members of Congress actually probably belonged in the opposite party but were grouped for historical and geographical reasons (usually Civil War related) in the "wrong" party…and then that phase came to a crashing halt when Democrat Lyndon Johnson signed the Civil Rights Act and Republican Richard Nixon explicitly appealed to the angry southerners to leave the Democratic Party and join him. Voters and their Congressmen began switching in droves. As the Goldwater-Reagan wing gained control of the Republican Party from 1964 to 1980, in part on the strength of this reactionary influx in the Deep South, they in turn purged the moderate and liberal Republicans who represented the northern Lakes and New England states in the Senate and the northern cities in the House.
To explain shifts in voting behavior in Congress over the past 50 years, we need some way of visualizing ideological grouping distributions, not just separation of party affiliations, which in the past were often arbitrarily based in historic-geographic allegiances until more recently. (There are also geographic allegiances now, but it's a very different kind.) It's pretty hard to talk about "polarization" without acknowledging that the ideologies didn't line up well with the party labels for quite a while in American history.
After all, cousins Teddy Roosevelt and Franklin D. Roosevelt more or less supported similar agendas as president, despite being from different parties, and they were each both warmly supported and deeply opposed by rival factions within their own parties. Conversely, progressive Governor Thomas E. Dewey and hardline conservative Senator Robert A. Taft both theoretically represented the Republican Party at the same time period but had almost polar opposite ideologies and issue positions.
There are no longer cross-party conservative coalitions and cross-party progressive coalitions in Congress. They have sorted almost entirely into their respective parties. Technically, that by definition means there's "more" polarization in Congress, but only in a superficial sense. A more serious analysis would have to take into account whether moderate, conservative, and liberal members are voting less frequently together — or at least in combinations of two of the three — than they used to do, regardless of party label.
The bigger thing to worry about is not so much whether the parties have sorted themselves ideologically but how that development changes the role of rules and procedural hurdles in each chamber of Congress (and between chambers). If it's now harder or easier for one particular ideological coalition to gain control of all power points in Congress by being in one party, instead of two, that changes what kind of proposed legislation makes it through to law.
In particular, I think it's far more likely now that there will be no ideological overlap between the majority leadership and minority leadership — the people controlling the levers and valves on legislation — because the odds are more in favor of a liberal Democratic leadership facing off against a conservative Republican leadership, instead of liberals controlling both parties at the same time or conservatives controlling both parties at the same time, which was often a feature of mid-20th century Congress.