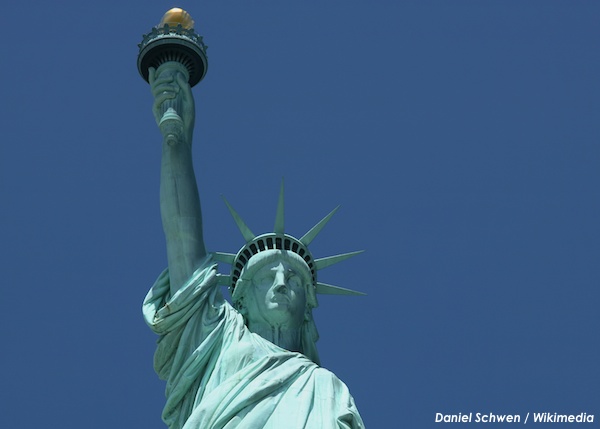 Although it didn't take effect until 1968, the Immigration and Nationality Act of 1965 was signed into law on October 3, 1965 — 50 years ago today — by President Lyndon Johnson. It was instrumental in transforming the racist eurocentric immigration quota policies that preceded it into a truly global immigration system focused on worker skills and family reunification.
However, as The Atlantic explained this week, the latter point was almost accidental — and its effect was unanticipated. The White supremacist faction in Congress at the time, disappointed in the abandonment of explicit national quotas, introduced family reunification in the hopes that it would encourage recent European immigrants to bring their extended families over and thus keep the balance of immigration overwhelmingly White and European. Instead, it created a beachhead for so many other countries' migrants to make a new home in America.
In the subsequent half century, the pattern of U.S. immigration changed dramatically. The share of the U.S. population born outside the country tripled and became far more diverse. Seven out of every eight immigrants in 1960 were from Europe; by 2010, nine out of ten were coming from other parts of the world.
[…]
The heightened emphasis on family unification, rather than replicating the existing ethnic structure of the American population, led to the phenomenon of chain migration. The naturalization of a single immigrant from an Asian or African or Hispanic background opened the door to his or her brothers and sisters and their spouses, who in turn could sponsor their own brothers and sisters. Within a few decades, family unification had become the driving force in U.S. immigration, and it favored exactly those nationalities the critics of the 1965 Act had hoped to keep out, because those were the people most determined to move.

The large numbers of African, Middle Eastern, and South Asian immigrants and naturalized citizens in the United States today are here thanks in large part to the family reunification provisions passed in 1965.