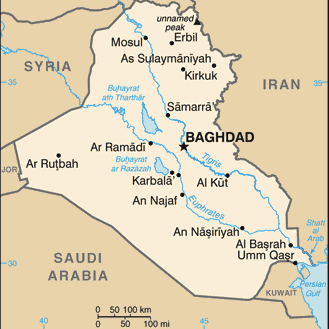 New York Times headline today: "Qaeda-Linked Militants in Iraq Secure Nearly Full Control of Falluja"
The city of Fallujah, located on the Euphrates river, is 43 miles west of Baghdad, the capital, which is on the Tigris. It's a major Sunni city and was the site of heavy civilian casualties in the 1991 Gulf War and then of bitter fighting in 2004 between the United States military and Sunni insurgents aligned with al Qaeda. The United States lost control of the city then, but regained it with a very heavy push that year, which included the intentional use of chemical weapons against insurgents and the destruction of tens of thousands of homes. The city has now essentially fallen to Sunni insurgents once more.
Remember how conservatives just spent the last five years insisting that George W. Bush's "surge" actually "won" the War in Iraq and made it possible to leave? It's pretty clear right now that that was a bad assessment.
I mean, on its merits it was clear to me that it always had failed, because it never achieved its primary goal of creating space for political solutions to the civil disarray. Well, it may have created the "space" but no solutions — or even dialogue — ever happened. And that was the entire premise upon which success should have been measured.
So we just left later than we should have, with a higher body count than before the surge and nothing to show for it. But conservatives kept insisting it was a huge success. Anyone who disagreed was supposedly just a Bush-hating liberal who couldn't admit being wrong.
Now Iraqi violence is the highest it's been in five or so years and large parts of the Sunni areas are falling like dominoes to a miniature, transnational Syria-Iraq militant empire affiliated with al Qaeda. It's the successor group to the old Al Qaeda of Mesopotamia unleashed after the U.S. invasion in 2003, except now they've gotten control of giant sections of not one but two countries, away from the respective non-Sunni national governments of the bordering countries.