New York Times: "Kremlin Finds a Defender in Congress"
Representative Dana Rohrabacher, a California Republican, is speaking up for Moscow with pride.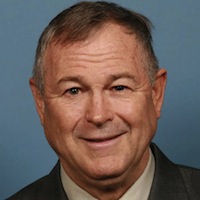 Wow, there is so much to unpack in that article.
Now, for a start, Rep. Rohrabacher has always been a bit "unique" in his views and behavior — and the article spends some time on that. But he's particularly delusional about the freedoms of the current, post-Communist version of the Russian Federation, as well as newly Russian-occupied Crimea:
"There have been dramatic reforms in Russia that are not being recognized by my colleagues," he said. "The churches are full. There are opposition papers being distributed on every newsstand in Russia. You've got people demonstrating in the parks. You've got a much different Russia than it was under Communism, but you've got a lot of people who still can't get over that Communism has fallen."

What about Pussy Riot, the Russian protest group? Its members were jailed for criticizing Mr. Putin, released, then publicly flogged when they showed up at the Winter Olympics in Sochi.

"Well, I don't think that happens often," Mr. Rohrabacher said with a shrug. "There are lots of people demonstrating in the streets of Russia who are perfectly free to do so."

Yet, this isn't limited to one foolish Republican: as the article notes, progressive Florida Democrat Alan Grayson is similarly eager to endorse the Crimea referendum as "a virtually bloodless transfer of power establishes self-determination for two million people…"
Which is such a laughable fiction that it makes me question everything I know about Rep. Grayson. (Is he just trying to be contrarian for the sake of it at this point?)
But I also strongly suspect Rohrabacher's love of Putin's Russia and support for the Crimea annexation is partially grounded in Vladimir Putin's violent and militarized opposition to "Islamic terrorism" (in the form of Chechen persecution and other state terror campaigns in the predominantly Muslim northern Caucuses):
By last year, Mr. Rohrabacher was accompanying the action star Steven Seagal to Russia in search of a broader Islamist plot behind the Boston Marathon bombing. The actor and the congressman had often discussed "thwarting radical Islamic terrorism," he explained.