France's defense minister has just announced plans to create a semi-permanent force of 4,000 troops across the entire Sahel and Sahara in former French West Africa, as it redeploys most of its troops in Mali.
"There will be 1,000 soldiers that remain in Mali, and 3,000 in the Sahel-Sahara zone, the danger zone, the zone of all types of smuggling," Mr Le Drian said, in a television interview.

"We will stay as long as necessary. There is no fixed date," he added.

French forces will be based in four regional centres – Mali, Chad, Niger and Burkina Faso – Reuters news agency reports.

Smaller bases from which to launch strikes are being set up, with Ivory Coast as the mission's logistical hub, it adds.

I find this development fairly troubling. France should too. Open-ended commitments are rarely a good idea.
However, it's also not surprising, given the increasing re-involvement of France in the security affairs of its former African colonies in the past decade. A small, permanent force in several locations in or near the Sahel/Sahara is probably the only way (from a feasibility standpoint) that France can both avoid permanent and ineffective occupations (at much higher cost in lives and money) and respond quickly to rising threats, kidnappings, etc., which it feels it must do for its own security.
All the same, this open-ended, rapid-reaction wack-a-mole approach to counterterrorism — where they keep thousands of troops all over West Africa (and Central African Republic nearby) before periodically bursting into neighboring countries for a minute, guns blazing, like Operation Neptune Spear — makes France seem more than a bit neo-colonial.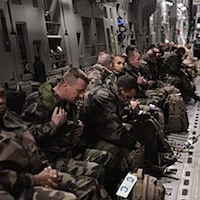 It also seems like an easy step down the path toward becoming completely mired in an unwinnable, transnational counterinsurgency operation in the Sahel — something others have warned against previously often.
As ever, the Sahel needs more of a Marshall Plan development aid strategy than troop deployments.