Most of the ink spilled about the election earlier this month has focused on the presidential race. With the amount of money spent on it and media attention it gained (especially with one candidate being a bigoted, reactionary carnival barker), that makes sense. There have been many post-mortems, and there will be more. And there is comfort in knowing that over two million more people voted for Hillary Clinton than for Donald Trump, regardless of the Electoral College results.
But focusing on the top of the ticket alone obscures what was happening–and has been happening–down ballot.
Democrats hit a new low in state legislative seats. In 2017, Republicans will control 4,170 state legislative seats, with Democrats controlling only 3,129 in the 98 partisan legislative chambers. According to the AP as of last week, Republicans had a net gain of 46 seats, and Democrats a net loss of 46 seats. Some races in California and Washington, however, have yet to be called, but that will not change the overall picture.
Indeed, the losses since 2008 have been stunning. Some of this can be explained by the extreme gerrymandering of state legislatures by Republicans after the 2010 Census, but that cannot explain all of it.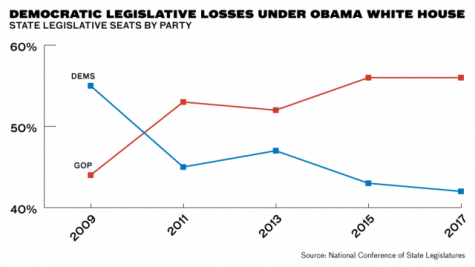 Fortunately, Massachusetts was largely immune to this trend in 2016. Republicans succeeded at picking up only one open Democratic-held seat: Brian Mannal's Second Barnstable District in the House. Republicans will now have 35 seats in the MA House, to Democrats' 125. (The Senate will remain 34-6).
Elections in Massachusetts are rarely competitive affairs, however. This year, in 77% of seats, one major party fielded no candidates, and 88.8% of incumbents ran unopposed in their primaries.
We haven't been so lucky in the gubernatorial realm, though. Massachusetts is one of two states with Republican governors but Democratic legislative supermajorities (the other being Maryland). Democrats will start 2017 with two fewer gubernatorial offices than they held in 2016, having lost the offices in Missouri, New Hampshire, and Vermont–and—provided NC Governor Pat McCrory (R) doesn't succeed in stealing the election away from AG Roy Cooper (D) with trumped-up voter fraud charges—gained an office in North Carolina. This leads to a total of only 16 gubernatorial offices. It's quite jarring to think that the majority of New England states now have Republican governors.
During the next four years of the Trump presidency (let's pray–and organize to make sure–it's not eight), states and cities will take on extra importance in advancing a progressive agenda. That means passing bold, progressive legislation that advances equity, inclusion, and sustainability in the state and offers a model for other states and the nation as a whole (down the road), and organizing to take back gubernatorial seats and legislatures.
Here in Massachusetts, we need to do both. With legislative supermajorities, Democrats need to be pushing for a $15 minimum wage, paid family and medical leave, criminal justice reform, free tuition at public colleges, single payer health care, automatic voter registration, and the protection and expansion of the rights of women, people of color, immigrants, and the LGBTQ community. And we also need to be working to take back the gubernatorial office in 2018 so that we have a governor who wants to play a part, or even lead, in advancing that agenda.