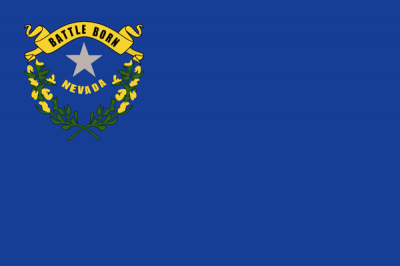 Yesterday's shooting in a Las Vegas shopping center was an act of domestic terrorism, and the perpetrators were radical anti-government right-wingers with ties to both Neo-Nazism and the nearby Bundy Ranch standoff against the Federal government on public lands in Nevada.
Residents who spoke about the Millers all mentioned the couple's relationship with Bundy. Oak Tree resident Sue Hale said the two told her they were in Bunkerville during the standoff, which occurred in April after federal authorities began conducting a roundup of Bundy's cattle. Bundy had defied the government by grazing the cattle on public land without a permit. "Yap, yap, yap. They were always running their mouths," Hale said.
[…]
After killing the officers, the couple covered the bodies with a cloth displaying the Gadsen, or "Don't Tread On Me" flag — a Revolutionary War-era symbol that has since been adopted by the tea party. Investigators also found swastikas at the suspects' apartment.

Their social media posts before the attack indicate that they were so hardcore about the Bundy standoff that the Bundys made them leave for making them look bad. The Bundy family denied any connection.
---
Arsenal For Democracy Radio – Background Discussion on Bundy Ranch Standoff:
Part 1 – Move Your Cows, Bundy – AFD 81
---
It's important to call these acts what they are, to end the false dichotomy of how other terrorist attacks (by non-whites, inside or outside the country) are labeled and handled. Ultimately, however, the best way to respond to terrorism is to treat it, without glory, as criminal activity. In the words of L. Paul Bremer in the Reagan State Department's official policy on counterterrorism:
Another important measure we have developed in our overall strategy is applying the rule of law to terrorists. Terrorists are criminals. They commit criminal actions like murder, kidnapping, and arson, and countries have laws to punish criminals. So a major element of our strategy has been to delegitimize terrorists, to get society to see them for what they are — criminals — and to use democracy's most potent tool, the rule of law, against them.

But until then, I don't want a false double standard where some stuff is called terrorism and some stuff isn't, depending on the attackers' skin color or ideologies.
Podcast: Play in new window | Download
Subscribe: RSS