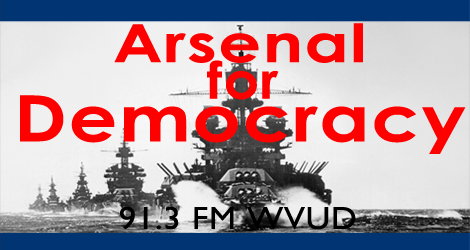 Topics: Big Ideas in U.S. Reform – Measuring government performance; Arms control; Libya crisis. People: Bill and Persephone. Produced: July 27, 2014.
Discussion Points:
– Big Idea: Can government programs' performance be measured objectively — or is it inherently political?
– Should the U.S. and its NATO allies completely stop selling and giving weapons to other governments, especially repressive ones?
– Is a general from Virginia about to become the next dictator of Libya? Should the U.S. pick a side?
Part 1 – Measurement:
Part 1 – Measurement – AFD 94
Part 2 – Arms Sales:
Part 2 – Arms Sales – AFD 94
Part 3 – Libya Crisis:
Part 3 – Libya Crisis – AFD 94
To get one file for the whole episode, we recommend using one of the subscribe links at the bottom of the post.
Related links
Segment 1
– AFD: Should government programs be funded Moneyball-style?
– NYT: The Quiet Movement to Make Government Fail Less Often
– AFD: In Mass., Goldman wants in on prison profit stream
– AFD: United State of Unemployment
Segment 2
– AFD: UK has a real arms sales problem on its hands
– Middle East Monitor: Kerry says US will deliver Apache helicopters to Egypt soon
Segment 3
– AFD: US embassy staff moved out of Libya
– AFD: Meanwhile in Libya
– Previously on the show: July 2013 debate on types of U.S. involvement in Syria
Subscribe
RSS Feed: Arsenal for Democracy Feedburner
iTunes Store Link: "Arsenal for Democracy by Bill Humphrey"
And don't forget to check out The Digitized Ramblings of an 8-Bit Animal, the video blog of our announcer, Justin.
Podcast: Play in new window | Download
Subscribe: RSS