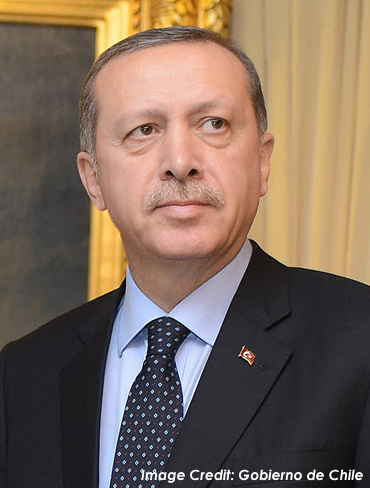 As post-election betrayals go, saying "We will make them pay dearly" of an ethnic minority constituency you heavily courted in the presidential election two months earlier, after seeking their votes in parliament the year before to amend the constitution significantly in your favor, is probably pretty high up there.
But that's exactly what President Recep Tayyip Erdogan did as Turkish and Syrian Kurds' protests on Turkey's inaction at Kobani became violent in clashes with security forces and then resulted in deaths of government officials, according to Hurriyet Daily News, a major Turkish newspaper:
"We will make them pay dearly" Turkish President Tayyip Erdogan vowed in a speech in eastern Turkey's Bayburt yesterday. "Like they paid for what they did in Bingöl, they will pay more in future," he said.

He was talking about a clash between the security forces and a group of Kurdish militants on Oct. 9 in another eastern city of Bingöl. Following a call by the Peoples' Democratic Party (HDP), which focuses on the Kurdish problem, to end the violence-infected protest demonstrations against the government, the police chief of the city was attacked by gunfire in the downtown part of the city; he was heavily wounded and two of his deputies were killed. During the hot pursuit, the security forces had killed four militants in a car while they were trying to escape with their guns; one of them turned out to be a civilian government employee.

The government accuses the outlawed Kurdistan Workers' Party (PKK) of being behind the attack, despite the ongoing peace talks that have continued for the last two years.

Hurriyet also reported that a wider crackdown on Kurds in Turkey appears to be imminent:
A day before, on Oct. 11, Erdogan also said there will be new and stricter measures to fight with the "vandals on the streets," and are expected to be brought to Parliament this week.

Erdogan signals that there could be more security measures if the PKK resumes its armed campaign as the country is heading for a parliamentary election scheduled for June 2015. Such a hardening in security policies in relation with the Kurdish problem could not only break the peace dialogue, but could mean a harder line in Turkey's foreign relations as well.

So much for peace at home, so much for Kurdish cultural recognition, and so much for the improved relations with Iraq's Kurdish Regional Government in recent years or the ISIS-induced era of good feelings from June to September of this year. It was a good run for the year and a half it lasted. Now back to your regularly scheduled decades of unresolved internal conflict.