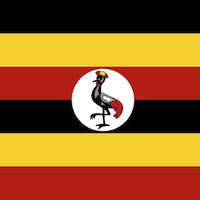 Uganda's government, armed and assisted by the United States with "millions of dollars of military support, namely, trucks, fuel and contracted airplanes," is hunting down the transnational Lord's Resistance Army (LRA), a cult-like group of marauding rebels that follows no borders and transfers their "resistance" to whatever government is currently least stable in central Africa. They originated in Uganda under the messianic Joseph Kony, but he's taken them elsewhere at present (I think the southeast of the Central African Republic). With the Ugandan government back on its feet, the LRA has pretty much left the country for a few years to seek easier targets, but they're still pillaging across the Congo, Sudan, the Central African Republic, and elsewhere, sometimes one or two countries away from Uganda's border.
Now Uganda is on a mission to wipe them out or liberate its members (many of whom are child-soldiers and slaves), and they've hit upon the idea of recruiting former members to track the group across the jungles and swamps of central Africa, since they have the most experience following the LRA's tricky trails. It's somewhat of a controversial program, but it seems to be working.
Some American officials said that they had mixed feelings about the former rebels' being involved, though they said that the decision was the Ugandans' and that in this case, as one American officer put it, "these guys may be some of the best they got."

The battlefield statistics seem to bear this out. In the past 18 months, American officials say, the Ugandan Army has killed or captured more than half of Mr. Kony's men, including his finance and communications officers, as well as several other high-ranking commanders.

"And let's be realistic," added the American officer, who was not authorized to speak for attribution. "These ex-L.R.A. guys don't have many skills, and it's going to be hard for them to reintegrate.

"But one thing they are very good at," the officer said, "is hunting human beings in the woods."

Of course, the big question is what happens to these ex-rebels if the LRA is wiped out? Many were hired for this program because they lacked any marketable skills after leaving the LRA themselves, and this was something they were good at that paid well. Let's hope the United States' commitment doesn't end with the elimination of the Lord's Resistance Army, or else the destabilization problems will just re-appear under a new rebel group.
This post originally appeared on Starboard Broadside.