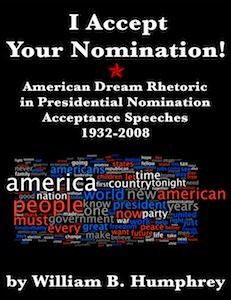 My first book, over a year in the making, is now on sale at Amazon for $2.99 for Kindle! Get yourself ready for the Republican and Democratic National Conventions by learning about the importance of American Dream rhetoric in past presidential nomination acceptance speeches.




I Accept Your Nomination: American Dream Rhetoric in Presidential Nomination Acceptance Speeches, 1932-2008: William Humphrey: Amazon.com: Kindle Store
Note: That link goes to the U.S. Kindle store but if you are overseas and search for the title in your country's Kindle store, you should be able to find it without any trouble.
Abstract
Since 1932, Democratic and Republican presidential nominees have delivered speeches in person at thirty-seven conventions, accepting their parties' nominations for that election.
These speeches occur at the official nexus of primary and general election campaigns, and they are delivered to live audiences of supporters and millions of undecided voters from across the spectrum watching at home. They have developed into their own internally consistent and self-referential genre within American political rhetoric, filled with shared motifs, themes, and components.
Despite that, there has been only limited academic research on the speeches so far. This project examined, in particular, representations of the common motif of the American Dream across the genre in an effort to answer part of the question of how American political candidates (specifically presidential nominees in this case) appeal to ideas (such as the American Dream) in the American political culture.
Most references in the speeches to the American Dream, however, are oblique or indirect. I therefore conducted a content analysis and identified seven distinct "vehicles" that the nominees have used to introduce the concept into the speeches and define it. I argue that these references communicate information to voters about ideological positions and disposition of the nominees, which help voters form impressions to use when casting their votes.
It is hoped that this work will have both campaign and academic applications, and I conclude by suggesting some possibilities to that end. It is additionally hoped that this book will be accessible to general audiences.