South Sudan: This is the house that Jack built. If the house is a new state in sub-Saharan Africa and Jack is the United States.
The New York Times identifies one of the more pressing problems in the current crisis:
The problem, analysts say, is that the United States does not have the influence it had before 2011. Then, the South Sudanese needed American aid and support for a referendum. Now they have independence and more than $1 billion a year in oil revenue that used to go to the north.

"Very quickly after independence, we saw increasingly authoritarian instincts, not just on the part of Salva Kiir, but all the members of the South Sudanese political elite," said Cameron Hudson, a former State Department official who is now the policy director at the United States Holocaust Memorial Museum.

This time around, powerful neighbors like Ethiopia, Uganda and Kenya are taking a lead role in trying to broker peace.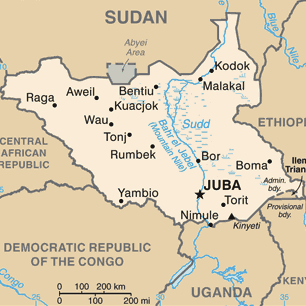 On the one hand, I think that reinforces the need for oil purchase partner China to get involved — particularly as I don't trust those regional powers to be fair brokers.
On the other hand, it's also a cautionary tale for the United States in future. That's a point explored in more depth in the key read from The Guardian, How Hollywood cloaked South Sudan in celebrity and fell for the 'big lie'.