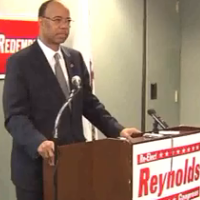 A balanced universe: Zimbabwe's government has just jailed an ex-U.S. Congressman from Illinois who's a big supporter of the regime. He's also a convicted child rapist, among his many career-ending U.S. convictions. Let us review the crimes of Rep. Mel Reynolds:
Reynolds resigned from his congressional seat in 1995 after he was convicted by a jury of having sex with a former campaign worker while she was underage, and then trying to thwart the investigation. While in prison he was also convicted of bank and campaign fraud for concealing debts to obtain bank loans and diverting money intended for voter registration drives into his election campaign.

Before he raped a campaign staff member — and please remember that if a powerful and well-connected older man has sex with a minor, it's definitely a coercive situation and therefore rape — Reynolds replaced another Congressman-assaulter-of-young-women and definitely, absolutely should have known he was doing wrong:
Reynolds unseated U.S. Rep. Gus Savage in 1992, two years after a House ethics committee determined that, during an official trip to Africa, Savage had made improper sexual advances to a female Peace Corps volunteer.
So what's he in prison for now, over in Zimbabwe?
…arrested Monday by police and immigration officials at a Harare hotel, according to the state-controlled newspaper, The Herald. He allegedly brought several Zimbabwean models and other women to his hotel room where he took photographs and videos.

Again with the failing to take a hint about what he should and should not be doing. Even after doing time for a rape conviction in the U.S., he decided to try making amateur adult videos in Zimbabwe — a country whose government is ultra-opposed to people possessing "sexual materials" or engaging in sexual misdeeds (such as making your own), particularly from non-residents. Yet this ex-Congressman and convicted rapist says to himself "Ah, this regime will be my friend!"
Reynolds reportedly complained that he was not expecting such treatment when he had brought investors to the country. He said he had been to Zimbabwe 17 times and had called for U.S. sanctions to be dropped against President Robert Mugabe and his associates. The sanctions were imposed because of the human rights situation in Zimbabwe and in an effort to pressure the government to introduce democratic change.

How charming. Best of all, he was living in the country on a many-months expired visa when he decided to break the law. He's obviously good with boundaries and exercising sense.
Fingers crossed that Zimbabwe holds former US Congressman & monster indefinitely rather than deporting him back. Far as I can measure, a prison in Zimbabwe is exactly where he belongs. For good.