You may have heard of the "McConnelling" meme circulating based off the inexplicable decision of U.S. Sen. Mitch McConnell's campaign staff to release video that is purely composed of silent clips of the uncharismatic and deeply unpopular conservative Senator giving borderline B-roll reaction shots, for use in DIY pro-McConnell ads.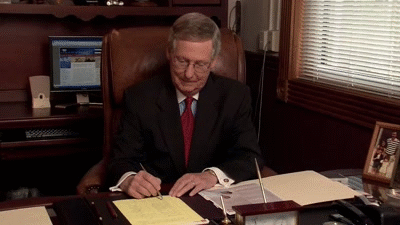 Of course, no one was really interested in that idea, so they just did DIY nonsense with it (especially after The Daily Show got in on the act, encouraging people to make mashups of the video with unexpected content). Which is good too.
One of the better ones I have seen is this RoboCop (1987) mashup with the McConnell footage, created by Nerdy Little Secret's Martin, the man behind the brilliant new "Cyvlorg" video series on cyborgs in pop culture.
You couldn't really put a McConnell/RoboCop mashup in better hands than Martin's:

Really does raise the question as to which one is the robot: the distinctly non-human Mitch McConnell or ED209?
As you may or may not have worked out, Senate Minority Leader Mitch McConnell, Republican of Kentucky, is up for re-election this year.