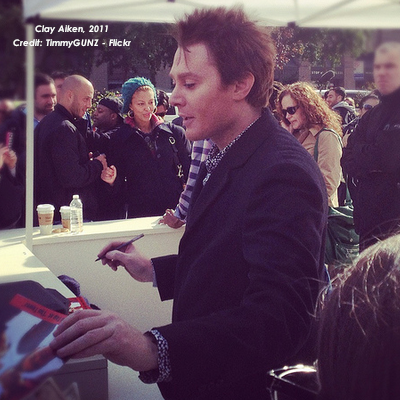 Unfortunate news out of North Carolina today as a Democratic Congressional candidate passed away unexpectedly after an accident. He was locked in a close primary race with former Idol runner-up Clay Aiken.
North Carolina Democratic congressional candidate Keith Crisco was found dead at his home on Monday, days after his primary race against singer Clay Aiken was declared too close to call. Crisco was 71.

The Asheboro Courier-Tribune reported that, according to employees at his company, Asheboro Elastics, emergency workers found Crisco after he suffered injuries related to a fall in the residence.

Crisco, who served as the state's Secretary of Commerce from 2008 to 2012, reportedly trailed Aiken by 369 votes following their May 6 primary election.

Here is my analysis on the district and Aiken's chances in the general election from February:
Clay Aiken, American Idol season 2 runner-up and a very successful singer, of Raleigh, North Carolina is throwing his hat into the political ring as a Democrat in North Carolina's 2nd Congressional District. A lot of the articles I've seen have either failed to provide any context whatsoever or have written him off completely without much detail. So, I aim to remedy that here.
[…]
In terms of the big picture for the U.S. House, Democrats would probably love to recapture that district, which — before it was redrawn — had once been historically black and was only lost to Ellmers in 2010 by fewer than 2,000 votes. Barack Obama won the old district in 2008 (but would have lost it heavily to McCain under the new lines).

That being said, the NC 2nd is a district that was drastically redrawn by the Republican legislature after 2010, to be a low-income and heavily white district with a 50-50 urban rural split. It has a 10 point Republican voter lean in the 2013 Cook PVI ratings, though it may be that those Republicans are more solid than the previous version of the district, since it was actually slightly more Republican on paper when it was held by Democratic Bob Rep. Etheridge. In the 2012 presidential election, it voted for Mitt Romney by 18 points.

So, it will be an uphill battle for any Democrat there, even without considering that it would be a midterm race (lower turnout) and that Aiken is openly gay in a state that just voted in 2012 to ban any legal recognition of same-sex relationships. Ellmers, while unpopular nationally as a person (her shutdown comments are the tip of an unpleasant iceberg), is a solid conservative in a new district that voted to re-elect her last time by a margin of over 45,000 votes or 15 points. But it's probably worth noting that Mitt Romney outperformed her in the same election when her Democratic opponent in 2012 didn't have much name recognition, which may demonstrate some vulnerability. Even so, it's still a decisive result that will made it a challenge for any Democrat — even for someone like Aiken who could probably assemble a reasonably credible campaign.