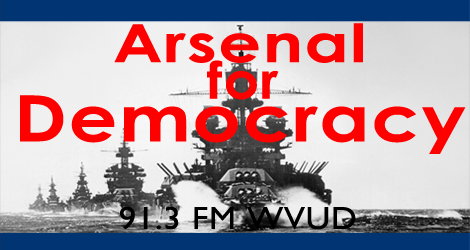 Topics: Mike Pence's failed state media outlet, Nigeria elections postponement, UK elections early predictions. People: Bill, Nate. Produced: February 10th, 2015.
Discussion Points:
– Is Indiana's short-lived state media outlet a harbinger of even more challenges for local journalism?
– What does the postponement of Nigeria's elections mean for the country's democracy?
– UK: What could a Labour-SNP coalition mean for Britain? What effect will the centrality of UKIP's talking points have on the campaign?
Episode 116 (52 min)
AFD 116
Related links
Segment 1
– AFD: Pence's Pravda
– Indianapolis Star: Pence starts state-run news outlet to compete with media
– Fort Wayne News-Sentinel: Indiana Governor Mike Pence scraps plan for state-run news website
Segment 2
– AFD: Nigeria military forces elections to be postponed
– BBC: Nigeria election: Five questions about delay
Subscribe
RSS Feed: Arsenal for Democracy Feedburner
iTunes Store Link: "Arsenal for Democracy by Bill Humphrey"
And don't forget to check out The Digitized Ramblings of an 8-Bit Animal, the video blog of our announcer, Justin.
Podcast: Play in new window | Download
Subscribe: RSS