Arsenal Bolt: Quick updates on the news stories we're following.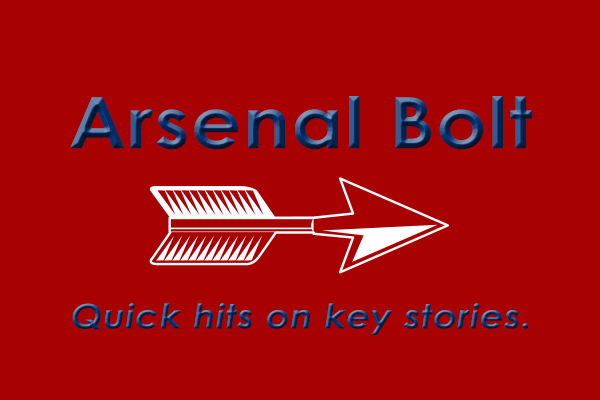 "Afghan Security Forces Struggle Just to Maintain Stalemate" – The New York Times
And after a casualty rate last year that the previous American commander called unsustainable, the numbers this year are even worse: up more than 50 percent compared with the first six months of 2014. About 4,100 Afghan soldiers and police officers have been killed and about 7,800 wounded, according to statistics provided by an official with the American-led coalition here.
[…]
Home visits were banned after many soldiers began deserting, and in recent months in Musa Qala and a neighboring district, there have been several cases of soldiers' shooting themselves in the hope that they would be evacuated, said Lieutenant Javed, who spoke on the condition that he be identified only by his first name.
[…]
Ahmad, a battlefield medic in Musa Qala who would only give his first name, said that he and his colleagues treated arm and leg wounds on the front lines, but that "when the soldiers got wounded on chest, head and abdomen, we cannot treat them or stop bleeding."

Periodically cut off by the Taliban, the soldiers have not always been able to evacuate casualties out of the district.

(From my previous reading, U.S. airborne medical evacuation coverage — which used to extend across nearly the whole country — was one of the last things keeping the Afghan Army in the fight. Without that, they're up a creek without a paddle whenever someone takes a serious wound on the battlefield.)
---
Previously from Arsenal For Democracy on this Topic:
"The US seems pretty optimistic about Afghanistan's army" – January 5, 2015
"Army of the Imagination?" – December 30, 2009