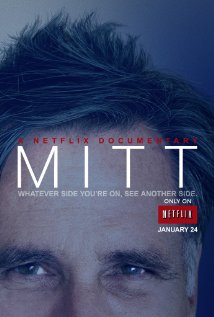 I watched the "Mitt" documentary. I don't think it really changed my opinion of Mitt Romney particularly — perhaps because I'm from Massachusetts and already had a strongly held negative opinion about him rather than a vaguely negative opinion based in national media caricatures. I obviously was aware he was a person behind closed doors. That doesn't have much to do with his bad policies and record.
What I did take away from it was how strongly Mitt Romney believed even in the moment of his (perceived) 'surprise' defeat that Pres. Obama was literally destroying the country in fall of "great nations" terms and believed America would reach an irreparable "tipping point" in "5 years" because of Obama's policies. Mitt's a relatively moderate and reasonable person, at least by comparison to most national elected Republicans these days, and even he had bought into that notion. (And in the documentary at least, a couple months earlier, Mitt and Ann were passionately discussing tax burdens on small businesses as a reason to win, rather than a perceived need to avert doomsday.) That's pretty stunning and disturbing.
I think maybe the costs (personal, financial, emotional) of running for office have reached such intense levels that the only way you can convince yourself to keep going through it all is not only to megalomaniacally believe that only you can do the job (as most political candidates have long seemed to believe), but also that the other person will be so bad at it that it will be something the community/state/nation can't recover from it.
In other words, to run for president these days, you can't just have a messiah complex but a sincere conviction that the end-times are nigh. Which meshes perfectly with the presently now-mainstreamed (!) thought-currents rippling and roiling through the Republican Party. But even if it didn't, that kind of divisive framing of campaigns is only going to fuel the toxic cycle that keeps producing worse and worse candidates and leaders at so many levels of government. There will be no good and decent people left on the campaign trail.
The smaller takeaway (as other people have observed) is: Wow, they really were delusional by the final month of the campaign and literally didn't understand how the electoral math/map was going for them or needed to be handled. To which I would add: Can you imagine a Mitt Romney presidency if the "bubble" around him was that impervious to reality and basic structural facts that politics couldn't alter?