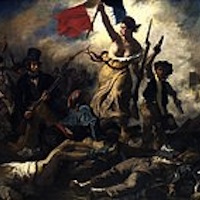 Another excellent article by Ta-Nehisi Coates (aren't his always?):
Mandela and the Question of Violence
Funny how Americans reserve the right to resist tyranny through violence — it's one of the core premises of hardline Second Amendment fans — but they also want to reserve the right to declare when it is acceptable for others to do the same. By arming some groups and opposing the arming of others. By calling some "freedom fighters" and some "terrorists" who must renounce violence. And so on.
Who made us the arbiters anyway?
I'm not going to say I'm not sometimes guilty of some of the same double standards, but I'm also a lot more open than most to considering the legitimacy (or at least understandability) of armed resistances, even if I think it's inadvisable in many cases.
Related Reading – The Globalist: Slavery and Guns: America's "Peculiar Institutions" | How U.S. "gun rights" today are an extension of a right created to preserve slavery.