In a changeup that The Atlantic's Molly Ball argued is "definitive proof" (as the headline writers put it anyway) that the Republican Party establishment is "getting their act together" finally against the tea party insurgents, 2010 US Senate nominee Ken Buck has dropped out of this year's Colorado Senate primary in favor of seeking the seat of U.S. Rep. Cory Gardner, who just announced he would seek the Senate seat himself. Buck, as previously covered here, is a very conservative (and very loathsome) Republican, who was the perceived frontrunner for the 2014 nomination.
I think it's probably very premature to drop the victory balloons for Gardner, since even if nominated he's still got an uphill battle against incumbent Democratic Senator Mark Udall, but I can see Ball's point. If rock-solid tea party champion Ken Buck — who was already jeopardizing GOP chances of a pickup once again — can be persuaded to drop out in favor of Gardner, that would seem to be a worrying sign for Democrats who have been counting on Republicans to shoot themselves in the foot (as discussed on AFD Episode 74 this week) as the core strategy for retaining tough-to-hold seats in the Senate.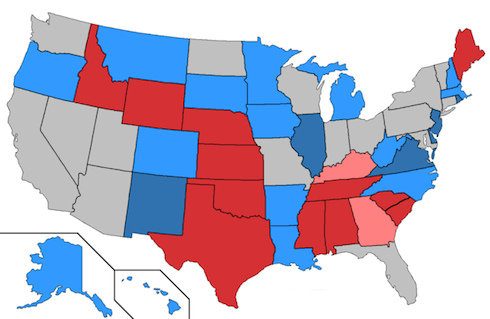 Competitive and non-competitive 2014 Senate races. (Credit: Orser67 – Wikipedia)
That said, the examples given in The Atlantic article of establishment Republicans outmaneuvering right-wing challenges this year were in non-battleground Senate races: Texas and Wyoming, which Democrats weren't going to win anyway this year.
Other examples we've seen this year like Virginia Republicans getting behind Ed Gillespie won't prove much of anything since the Democrats will still win handily there. So I think it's still too early to be writing trend pieces on this idea.
Read more