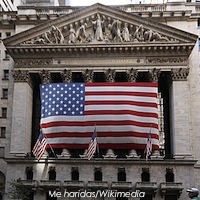 Recently, in some states, Goldman Sachs has been issuing "social impact bonds," a new financial instrument that purports to help cure social ills with Wall Street's "help."
In this case, they're loaning $9 million to the state of Massachusetts to help support a Boston organization that tries to help young offenders from bouncing back into prison. (Reducing young recidivism is a good social goal, obviously, and would have a ripple effect on crime prevention.)
If the effort reduces the number of days past inmate spend back in prison — which would save the state money — the savings would go back to Goldman Sachs, up to a million dollars. If the effort really pays off (above and beyond the bond repayment terms), then the state would get to keep the money. Of course, if the effort doesn't hit the minimum targets needed to generate enough savings, Goldman Sachs would still get interest payments on the bond, but would lose the principal loan ($9 million or however much of it couldn't be repaid due to insufficient savings).
As private investments in the prison industry go, it's not the worst thing in the world. At least the profit incentive is toward rehabilitation rather than toward further imprisonment in the way privatized prisons are. But the question is why is it even necessary to involve the private sector middleman in the first place?
The state could pay for the upfront cost of the program through tax revenues (if it were willing to raise taxes, of course), instead of taking a loan, it would keep all the money and not end up paying Wall Street no matter how things turn out. That money could be reinvested into expanding the successful efforts even more, thus benefiting all taxpayers.
In my opinion, the job of corrections and the rehabilitation of young offenders is part of the role of government. The private sector is free to help, but it should be an add-on to the process, not a redundant profit diversion mechanism in the middle.
Moreover, Goldman Sachs has a pretty notorious history of cooking the books (BBC video) to make money while temporarily making their loan recipient governments look like a success story until Goldman's gotten all its money back.
And that's not a good track record to have, going into this plan.