Arsenal Bolt: Quick updates on the news stories we're following.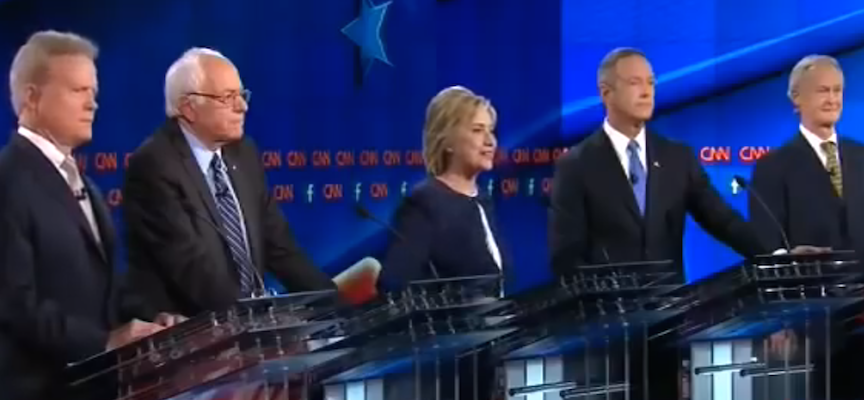 I reacted very negatively to Secretary Clinton's bizarre debate anecdote about the 2009 Copenhagen climate talks, but I couldn't quite remember all the details, other than my generalized and deep disappointment about the results of those talks at the time. This post filled my memory gap in…
"Hillary Clinton Is Living in a Climate Change Fantasy World" – Slate.com
About midway through the [first 2016 Democratic presidential] debate, Clinton staked her climate record on what's widely perceived to have been one of the biggest diplomatic failures in recent history — the Copenhagen climate summit in 2009. After years of anticipation, the meeting of world leaders ended in disarray, with Obama and his aides famously wandering around the convention center, looking for the leaders of China, India, Brazil, and other key nations. The toothless deal struck at the last minute was called a "grudging accord" by the New York Times the next day. Yes, Obama—and Clinton, then his secretary of state—were instrumental to that deal, but it's hardly something Hillary should be proud of.

So it was pretty strange to hear her comments on Tuesday night. In her first answer on climate change, Clinton said, "I have been on the forefront of dealing with climate change starting in 2009 when President Obama and I crashed a meeting with the Chinese and got them to sign up to the first international agreement to combat climate change that they'd ever joined."

In reality, the sour legacy of Copenhagen has haunted international climate negotiations ever since. It's now widely believed that the U.S. never wanted a legally binding climate deal in Copenhagen at all—even though the Democrats controlled the Congress at the time and may have been able to successfully ratify the treaty—opting instead for a mostly empty pledge of billions of dollars in aid to developing nations. Among environmentalists, Clinton has retained only a mediocre reputation on climate change as a result.

Her Copenhagen comment wasn't just a poor choice of wording, because she brought it up again later in the debate.
[…]
In her expanded version of the story, Clinton and Obama were roaming Copenhagen "literally … hunting for the Chinese." Once they found them, she said, "We marched up, broke in, and said, 'We've been looking all over for you. Let's sit down and come up with what we need to do.'" That all sounds very Jason Bourne, but it's not a good substitute for effective climate policy.