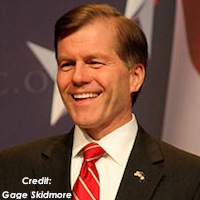 Less than two weeks after turning over the keys to the governor's mansion, Republican former Virginia Governor and presidential once-hopeful Bob McDonnell and his wife were indicted by a Federal grand jury on 14 felony counts.
They somehow managed to run afoul of the (Federal) law, despite their own state's virtually non-existent ethics laws. Their crimes generally all relate to a scandal involving accepting — or rather actively soliciting — huge gifts from a political donor so the McDonnells could continue living the high life even after their investment portfolio collapsed.
They hadn't even taken office before the shenanigans began (despite repeated warnings from staffers), and they likely wouldn't have even gotten charged with anything if they had just disclosed it, but they knew it was too politically damaging to admit.
So, charged they were — and how.
…former Virginia Gov. Bob McDonnell (R) and his wife Maureen were indicted on 14 felony charges on Tuesday. The indictments centered around tens of thousands of dollars worth of gifts received by the couple from a wealthy tobacco executive.

In what Republican state legislator Bob Marshall called the "type of activity" that "undermines public confidence," McDonnell and his family allegedly accepted more than $135,000 in gifts and/or loans from Jonnie R. Williams Sr., the then-CEO of Star Scientific Inc. The McDonnells then helped promote the scientifically-unproven dietary supplements line made by thecontroversial tobacco company-turned-supplements manufacturer. While Virginia's lax gifts law allows elected officials to accept unlimited gifts — even from lobbyists and those with business before the state — McDonnell apparently failed to fully disclose what he and his wife received.

The gifts included a silver Rolex watch, golf clubs, Louis Vitton shoes, and $15,000 to help pay for the McDonnells' daughter's wedding. According to the indictment, the former governor and his wife conspired to commit wire fraud to accept bribes, knowingly made false statements on loan applications to avoid reporting the Williams loans, and obstructed justice.

Great job to the Washington Post for pushing relentlessly to expose this story. And now — since this is one of those scandals that probably didn't really truly hurt anyone — the fun begins, particularly because Bob McDonnell was not well liked by much of the nation for his (and his party's legislative members') support for aggressive counter-abortion laws, such as the proposed mandatory, highly invasive early ultrasound.
From the trolling Brits on the other side of the Atlantic — who had their own major gifts/expenses scandal a few years ago, involving many members of parliament — comes this delightful take (The Guardian):
This Oscar de la Renta dress costs $12,590, which is just a fraction of the $140,805.46 in luxury gifts federal authorities say former Virginia governor Robert McDonnell and his wife, Maureen, took from a wealthy businessman.

We tried to online shop our way to the $140,000 mark, but we fell short.
We also learned all kinds of crazy (alleged) things about the McDonnells in the text of the indictment. Top line version below, details within:
1. It All Started With An Inauguration Dress
2. The McDonnells Were Deeply In Debt
3. Bob McDonnell Allegedly Knew About The First Big Loan From Williams
4. But Some Of Williams' Help May Have Come As A Surprise
5. Bob McDonnell Asked For $20,000 Via A Text Message
6. People Discussed Using [State] Employees As Dietary [Supplement] Guinea Pigs
7. Bob McDonnell Told Virginia Officials That He Took Anatabloc
8. Maureen McDonnell Allegedly Lied To Law Enforcement
The Feds were even willing to offer an extremely generous — perhaps overly so — deal to former Gov. McDonnell that would have protected his wife entirely, even though she seems to have orchestrated much of the corruption and solicitations. All he had to do was plead guilty to one felony count and serve time (probably very little considering who he is). Yet he said no.
All I know is this:
I love it when a Virginia Republican scandal comes together.
Oh, and a word to the wise for successor Governor Terry McAuliffe: Given your own shady ethics, don't forget to declare the gift you received from the McDonnells when they left.


For our initial coverage of the scandal in July 2013, listen to AFD Episode 50 – Ethics, Efficacy, Insurance.