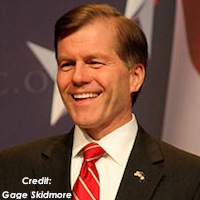 Ah, Bob McDonnell, the once and former future Vice President of These United States. Now a retired Governor of Virginia and (as of today) 11-times-over Federal convict. His wife was also convicted soundly on similar charges.
You may recall past highlights from his corruption trial proceedings included refusing to take an amazing plea deal that would have spared his wife altogether from joining him in 14-indictment hell:
The Feds were even willing to offer an extremely generous — perhaps overly so — deal to former Gov. McDonnell that would have protected his wife entirely, even though she seems to have orchestrated much of the corruption and solicitations. All he had to do was plead guilty to one felony count and serve time (probably very little considering who he is). Yet he said no.

And so down she went with him. But, we were told, it was all part of a cunning plan! This marriage needed to look so awful (for the jury) that refusing to spare her the investigation was just the final step.
Ah Bobby McDonnell, your masterful and foolproof "my wife is so horrible and I hate her and she was only taking bribes because she was in love with the briber" defense strategy worked like … whatever the opposite of "a charm" is. Just how low did you go in an effort to slime her for your own failed exculpation? Let us consult the New York Times:
Mr. McDonnell, who carried his wife over the threshold of the Executive Mansion the day of his inauguration, portrayed her in his testimony as a harridan whose yelling left him "spiritually and mentally exhausted," and who was so cold that after he sent her an email pleading to save their marriage, she did not reply.

BOBBY. FOR SHAME. You made the New York Times editors break out the word "harridan." They probably nearly asphyxiated from the dust of opening their expanded-volume dictionary just to find that word which could so perfectly summarize your cold-hearted view of your longtime wife and the mother of your five children.
BOBBY, I HAD TO LOOK THAT WORD UP JUST TO READ ABOUT YOUR DEFENSE. That is how mean you were to your wife.
And how, pray tell, did you brace yourself for your multitudinous convictions, good sir?
Leaving the courthouse at midday Tuesday once the jury began deliberations, Mr. McDonnell said the past 18 months had been tough on his family, but he said he drew strength from his 38 years of marriage and the five children he shared with his wife. "I think we're stronger than we've ever been."

And the shackles of their love will only grow in strength, no doubt, while they are both shackled in respective Federal prisons. Being apart from an unloving, backstabbing, corrupt spouse can only make the heart grow fonder. That's in Proverbs.