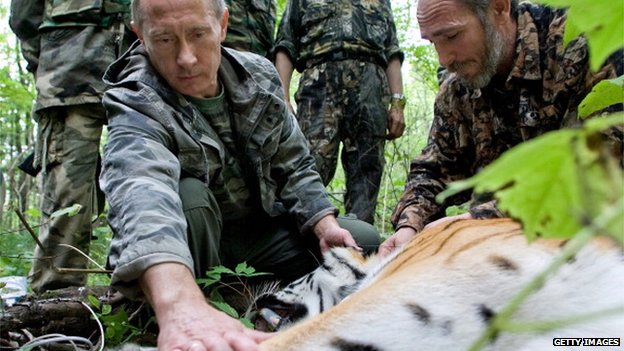 A tiger closely associated with Vladimir Putin has crossed into China, sparking fears of an international incident if something terrible happens on the other side of the border:
Virile, canny and possessed with a boundless appetite for red meat, Kuzya, a 23-month-old Siberian tiger, would seem the perfect mascot for President Vladimir V. Putin of Russia, who had a personal hand in reintroducing Kuzya to the wild in the Russian Far East in May.

It turns out that Kuzya, like Mr. Putin, has territorial ambitions, which this week drew him across the frigid Amur River that separates Russia and China. His arrival set off a diplomatic incident of sorts when it became clear that "President Putin's tiger," as one Russian newspaper put it, was facing possible peril on the Chinese side of the border.

On Friday, wildlife officials in China's far northeast were scrambling to ascertain Kuzya's whereabouts after his Russian minders, tracking him by radio transmitter, expressed concern that he could end up in the hands of poachers — not an unlikely outcome given the steep price a rare Siberian tiger can fetch on the Chinese black market.
[…]
At $10,000 a carcass, the incentive for poachers is hard to resist.

One final must-quote line from the New York Times:
The tiger recovery effort has been one of Mr. Putin's pet projects.