Post updated following President Sata's death on October 28; go to the bottom of the page.
President Michael Sata of Zambia, who has been very ill for quite some time (since June at the latest), has more or less disappeared from the country's public eye, except occasionally resurfacing very briefly or issuing statements from doctors in Israel and the United States where he has been treated.
This is raising some questions as to whether he is on death's door and why this is being suppressed to the extent it has been even in a democratic society. It's almost as secretive as the 2009-2010 health crisis of Nigerian President Umaru Yar'adua, in which the leader of the most populous country in Africa disappeared to Saudi Arabia without explanation for four months and then returned for two months before passing away. In that situation, Vice President Goodluck Jonathan was eventually declared Acting President, because of the uncertain situation and clear abandonment of the duties of the office, until it became permanently vacant. Jonathan was subsequently elected to his own term and remains president of Nigeria now.
In the case of Zambia right now, President Sata's hasn't stepped aside or handed over power, and his last statement in public (back in September) literally included the line "I'm not dead." So that's … not very reassuring.
Zambia celebrated its 50th anniversary of independence from Britain on Friday without the President's involvement, heightening speculation. But there are bigger questions about who exactly is running the country at the moment. The draft of a new constitution he has stalled since taking office in September 2011 was released the day before the independence festivities, which could be a distraction tactic or a more sinister sign that other, unelected people are making major moves behind the scenes.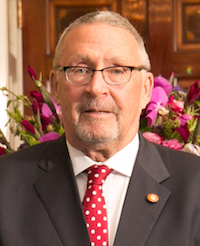 If 77-year-old President Sata dies, he would be succeeded automatically by Vice President Guy Scott, the country's first White Vice President. His father was active in supporting the Black nationalist independence movement, and the family has remained involved in the country's self-governing politics since then.
If I'm not mistaken, Mr. Scott, who is himself 70 years old, would be the only White head of state in Africa right now and probably the first since the Apartheid regime in South Africa ended in 1994.

Update 2 @ 2:25 AM US Eastern Time: A government official has confirmed the news to Reuters.
Update 1 October 29, 2014 @ 1 AM US Eastern Time: Unconfirmed reports in Zambian news media say President Sata passed away in London last night. Thompson Reuters Foundation:
Zambian President Michael Sata has died in London, where he had been receiving treatment for an undisclosed illness, three private Zambian media outlets said on Wednesday.

The reports on the private Muzi television station and the Zambia Reports and Zambian Watchdog websites said the southern African nation's cabinet was about to meet.

Government officials gave no immediate comment.

The reports said Sata had died on Tuesday evening at London's King Edward VII hospital. The hospital declined to comment.

According to a report by ZambianWatchdog.org, power is set to be handed to Scott, although perhaps not quietly…
The remaining Zambian cabinet was due to meet at 05: 00 hours on Wednesday Zambian time to formalise power transfer to vice-president Guy Scott, government sources have revealed.

The main agenda of the meeting was for acting president [and Defense Minister] Edgar Lungu to handover power to Scott. Most likely, it is after this formality that the Zambia government will announce the passing on of president Michael Sata.

It is not yet clear if Lungu will agree to handover as he may argue that he is the one to lead the country to the by-election. Lungu and some ministers had a meeting around midnight when they heard the news.

Minister Lungu assumed the role of "acting presidency" while Sata was out of the country for health treatments, but in the event of the president's death the vice president is automatically declared acting president for 90 days until a special election is held. The Zambian Watchdog website broke the story of Sata's passing overnight and has been tracking President Sata's illnesses for several years now.