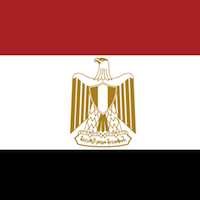 Egypt's military-supported "secularist" government under former General Sisi picked a new Justice Minister after the most recent one put his foot very deep in his mouth. This one promises to be somehow more controversial. Here are just a few quotations from incoming Justice Minister Ahmed el-Zend, out of a veritable cornucopia of outrageousness:
On a visit to Mecca, he previously gave an interview calling for the full imposition of Sharia law in Egypt – rather than it being acknowledged constitutionally as the "principal source for legislation" as at present.

He specifically called for that to include penalties of "hudud" – corporal penalties for moral crimes such as beheading for apostasy, lashing for fornication, and amputations of limbs for theft.

"We have in our penal code some articles that contradict Islamic Sharia," he said. "I would like the penal code to become Islamic from A to Z.

"I would like a single article to be added to the penal code – that Islamic Sharia to be applied with hudud." As critics noted, even the Brotherhood never calling for immediate application of hudud – a practice followed only in the most authoritarian Muslim countries such as Saudi Arabia and Iran, and abandoned elsewhere.

I still can't believe all the Western suckers and Islamophobes who fervently believed the military coup in July 2013 would end religiously-influenced government in Egypt. In reality, as I've said many times, the military just wanted military-led ultraconservative Islam, not liberal secularism.
By contrast, the supposedly dictatorial administration led by Muslim Brotherhood officials wanted plural, moderate Islamic democracy. In many ways, the Brotherhood's version of political Islam was demonstrably far less hardline than that of the military's — and it was perhaps even less conservative than Egyptian society as a whole. This is just another piece of evidence on the mountain already plainly visible: The secularists got duped in their own haste to eject the Muslim Brotherhood.