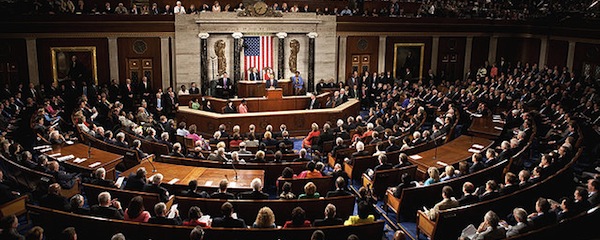 In just two days, it will be December, and Flint still hasn't gotten funding from the federal government to address its water crisis.
The water crisis dates back to April 2014, and it was back in January when the cases of Legionnaires' disease got media attention. Flint still doesn't have clean water, an indictment of our political system—both Republican cruelty and Democratic passivity.
No story about Flint should go without recognition of the role of Republican Governor Rick Snyder (someone who seems to reach an almost cartoon-villain level of callousness) and his administration, but I want to focus on Congressional politics here.
Back in February, Senators Debbie Stabenow and Gary Peters of Michigan attempted to secure $600 million for Flint, including $400 million to match state funds to repair and replace old pipes in the city (the rest going to a research and education center on lead poisoning), via the Energy Policy Modernization Act. Most of the Senate Democratic Caucus blocked the cloture votes on the bill in order to demand funding for Flint. Republicans did not oblige, and when the bill came back up two months later, Stabenow and Democrats dropped their opposition.
Flint funding came back into the spotlight in September. On September 15, the Senate passed the Water Resources Development Act, which authorized $270 million to help Flint and other cities ($220 million specifically for Flint). Republicans demanded that this expenditure be "paid for," leading to a $300 million cut in Energy Department research on advanced vehicle technology. WRDA-authorized projects were subject to future appropriations, but the Flint funding was designed to go into effect immediately.
However, that $270 million was not in the House version of WRDA, and the Continuing Resolution that had to be passed by the end of the month in order to keep the government funded offered an immediate opportunity to secure funding for Flint.
Republicans, of course, had no problem attaching $500 million in flood relief money for Louisiana (with no offset). But Louisiana has two Republican senators, and the flood-stricken area was represented by Republicans as well. Michigan has two Democratic senators, and Flint is in a Democratic district. Funny how that works.
After initial demands that Flint funding be in the CR, Democrats agreed to concede, provided that House Republicans set up an amendment vote to the WRDA to include Flint funding–but now only $170 million.
On September 28, the Senate voted for the Flint-less CR 72-26. (Tim Kaine and Bernie Sanders were both not present because they were on the campaign trail for Clinton.)
Of the 26 NO votes, 12 were Democrats:
Cory Booker (D-NJ)
Al Franken (D-MN)
Heidi Heitkamp (D-ND)
Pat Leahy (D-VT)
Ed Markey (D-MA)
Bob Menendez (D-NJ)
Jeff Merkley (D-OR)
Gary Peters (D-MI)
Debbie Stabenow (D-MI)
Elizabeth Warren (D-MA)
Sheldon Whitehouse (D-RI)
Ron Wyden (D-OR)
The Republicans who voted NO certainly didn't do so out of concern for Flint. Did the Democrats? Five of them made this clear in their press releases on the vote.
While I'm pleased that the final continuing resolution keeps our government running and provides much-needed funding to address the Zika public health crisis, I could not in good conscience vote for legislation that ignores the plight of 100,000 Americans living in Flint who were poisoned by their water supply, and also includes a measure that prohibits the government from lifting the veil on corporate political contributions.
While I'm encouraged that the House leadership has committed to providing aid to assist Flint with its lead contamination disaster, there is still no reason why that aid should not be funded immediately—just like the aid for Louisiana flood victims—rather than having to wait until after the election. Flint families have already been living with dangerously contaminated water for two years, and they should not have to wait a day longer for help. Geography, race, and partisan politics should never determine disaster assistance, and it's wrong to help out the victims of one disaster while telling others that they must continue to wait at the back of the line.
"But these fully paid-for Flint resources were put on hold while disaster relief for flooding victims in Louisiana was included. I support helping people in Louisiana during their crisis, but we should not pick and choose to help some states and not others.

"I could not support a government spending bill that will – once again – force the citizens of Flint to wait on the help they so desperately need.

"It is unacceptable that the bipartisan, fully-offset Flint aid package was left out. There is no excuse for leaving the people of Flint behind.

"It has been a year since the first public health emergency declaration in Flint, and over eight months since a national emergency was declared. Yet almost 100,000 residents of Flint still do not have a reliable source of safe water. They are still using bottled to water to drink, to cook, and to bathe.
Earlier this week, the House refused to take any action to help the people of Flint. After last night's negotiations, we now have a path forward to finally pass the Water Resources Development Act with long-awaited assistance for Flint.  It is critical that the House echo the strong bipartisan support that we saw for WRDA in the Senate and that action happen as soon as possible for the people of Flint.  My position on the government funding bill remains the same: I will vote no on any CR that does not treat communities equally.  It is wrong to ask families in Flint to wait at the back of the line again.
Is this what we have come to? Is this what politics has become? There are 100,000 people in Flint, a town where more than half the residents are African-American and nearly half live in poverty. They get nothing because voters sent two Democrats to the Senate?This is not a game. Flint is not a Democratic city or a Republican city; it is an American city. The children who have been poisoned are American children. The principle of standing up for those in need is an American principle.

I am a Democratic Senator from Massachusetts, but I will help the Republican Senators from Louisiana. I stand shoulder to shoulder with them in their hour of need, but I am sick and tired–I am past sick and tired–of Republican Senators who come here and demand Federal funding when their communities are hit by a crisis but block help when other States need it. Their philosophy screams, "I want mine, but the rest of you are on your own." It is ugly, un-American, and just plain wrong.

We must stand with the Senators from Michigan. We must stand with the children of Flint, and we must put aside ugly partisanship that is literally poisoning a town full of American families. Any Member of the House or Senate who doesn't stand with them lacks the moral courage to serve in this Congress.
Merkley, Menendez, and Warren also highlighted their opposition to a Republican rider that would block the SEC from developing, proposing, issuing, finalizing, or implementing a rule requiring public companies to disclose political spending to their own shareholders. Ron Wyden highlighted the rule as his grounds for opposition as well.
Later that day, the House passed its Flint funding amendment 284-141, the amended WRDA 399 to 25, and the Flint-less CR 342 to 85.
Only 10 Democrats voted against the CR:
Earl Blumenauer (OR-03)
John Conyers (MI-13)
Pete DeFazio (OR-04)
Debbie Dingell (MI-12)
Keith Ellison (MN-05)
Dan Kildee (MI-05)
Brenda Lawrence (MI-14)
Sandy Levin (MI-09)
Jim McDermott (WA-07)
Maxine Waters (CA-43)
The Michigan delegation voted against the CR because of the lack of Flint funding. DeFazio, Ellison, McDermott, and Waters did not issue press releases about their opposition. Blumenauer opposed it because Republicans had blocked a provision of his to make it easier for veterans to acquire medical marijuana across state lines.
The WRDA, along with the Flint funding promise, is now awaiting a conference, with just over a month left in the Congressional session. And Flint still doesn't have clean water.
This history should prove concerning as we look ahead to the years of a Trump presidency and Republican-controlled House and Senate. Democrats give up their demands quite easily and are willing to vote for Continuing Resolutions to keep the government funded despite whatever riders Republicans put into them. Republican cruelty and Democratic passivity are a toxic mix. I'll talk more about this dynamic in another post later this week.