More than 40 churches were burned in two-day riots in Niger this past weekend ostensibly over the publication of the post-attack edition of Charlie Hebdo with yet another cartoon of Muhammad on the cover.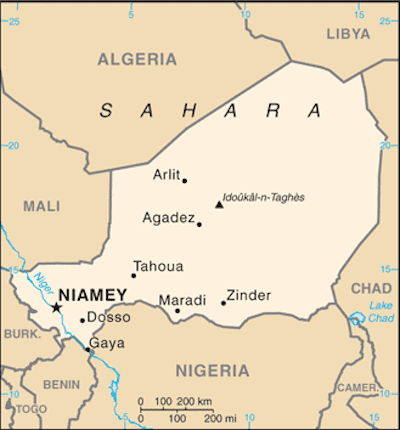 As the BBC notes in the quotes below, a reaction of some kind in Niger wouldn't be out of the ordinary — there were, after all, also protests (some violent) in Pakistan, Sudan, Algeria, Somalia, and other countries on the same day the riots in Niger began — but the intensity was startling.
(Moreover, Niger doesn't have a serious Christian-Muslim sectarian split the way Central African Republic's now war-torn population does, which would normally be a prerequisite factor for explosive and seemingly sectarian violence like this.)
Niger's population is 99% Muslim, so it wasn't a surprise that there was a reaction to Charlie Hebdo's caricature. But what was surprising was the scale of the subsequent protests and violence. Similar demonstrations in the past have been conducted peacefully, and even the authorities could not come up with an answer as to why the latest riots turned ugly.

So what are some of the suggested reasons for the widespread reaction? From the same BBC analysis:
One school of thought is that protesters were angry about their president attending the solidarity march of world leaders in Paris after the attack on Charlie Hebdo's office.

A second theory is that the violence was fuelled as much by politics as religious grievance – an idea given credence by the fact that protests started in the opposition stronghold of Zinder.

The last and the most complex theory relates to Boko Haram, the Islamist militant group from neighbouring Nigeria. Officials are reportedly investigating whether the group were involved in stoking the protests – they say a Boko Haram flag was seen – though whether the government is merely exploiting the group to gain outside sympathy remains to be seen.

I would also venture a possible fourth hypothesis, bridging the first and second as well as the specific and unusual targeting of Catholic Churches.
Niger, in the post-colonial period, has been subjected to an exceptionally high level of French meddling and military presence relative even to the other former French colonies. In large part, this is because of France's large domestic nuclear power capacity, which in turn depends heavily on access to uranium deposits in Niger. Niger is extremely poor, extremely underdeveloped, and extremely unstable (very coup-prone). People are persistently pretty miserable, and France has been fairly heavy-handed about interfering in politics and security affairs to ensure continued stability of access to uranium but hasn't offered much else.
In a country that is 99% Muslim and continues to face seemingly neo-colonialist, extractive involvement by France, Catholic Churches are probably the most visible and plentifully distributed symbols of continued French influence in Niger. If I were angry at my largely failed government (or wave after wave of governments whose only consistent feature was loyalty to the former occupier), I might start looking pretty disapprovingly at those easily reachable (and thus targetable) symbols of colonialism and failed pro-French governance. Combine that with another visible show of support by the local government for the concerns of the French citizenry (and an offensive magazine that often seemed to traffic in offensive colonial-era tropes) over the Nigerien population, and it's a particularly volatile mix.
I don't know if this is what the rioters were actually thinking when they attacked the churches, but it would probably make the most sense as an explanation in a situation where there had not been a recent history of sectarian religious war. In that light, the riots would not be religiously grounded but rather a reaction to the French system and continued abuses of the people, locally and from abroad.
Unfortunately, this kind of instability will probably only make France reinforce its permanent military presence in the country because it will convince them they were right not to trust the locals to maintain the stability and security of the country's uranium deposits, upon which France relies so heavily.