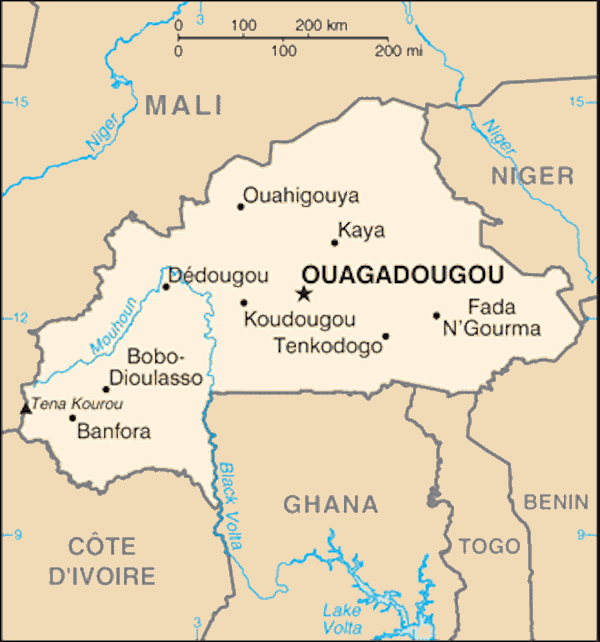 On Friday, Burkina Faso's President Blaise Compaoré resigned from office after 27 years in power and a week of escalating protests (see our background report). He appeared to hand power to General Honore Traoré, head of the Burkinabé Army, his former aide-de-camp, and called for elections within 90 days. While the elections point is in line with the Constitution, the transfer to the military is not, nor was the subsequent dissolution of the legislature.
Update II: Part of the problem appears to be that the position identified in the constitution as the successor does not exist due to an ongoing fight over the actual creation of a Senate required by amendments to the constitution.
According to the Constitute Project's English translation of the Constitution of Burkina Faso, the resignation of the country's President should result in the automatic elevation of the President of the Senate to acting president until a special election can be held 60-90 days later:
Article 43
While the President of Faso is incapacitated in a temporary manner from fulfilling his functions, his powers are provisionally exercised by the Prime Minister.

In case of vacancy of the Presidency of Faso for any cause that may be, or of absolute or definitive incapacity declared by the Constitutional Council referred to [the matter] by the Government, the functions of the President of Faso are exercised by the President of the Senate. It proceeds to the election of a new President for a new period of five years.

The election of the new President takes place sixty days at least and ninety days at most after [the] official declaration of the vacancy or of the definitive character of the incapacity.

The President of the Senate exercising the functions of the President of Faso may not be [a] candidate at this presidential election.

The Acting President also does not have the power to dissolve the legislature and hold new legislative elections.
The Army also may be suspending the Constitution, according to various announcements from competing sources. Colonel Zida, the Army Spokesman, has already claimed the termination of the Traoré transitional government, in less than 24 hours, and says he is now in command.


Update for Clarity: Burkina Faso had a unicameral National Assembly between the 2002 amendments and the 2012 amendments that re-established an upper house called the Senate on paper, but it was never executed. The post-2012 French version, with amendment notes, is here. Obviously it's hard to have the Senate President take power without a Senate.