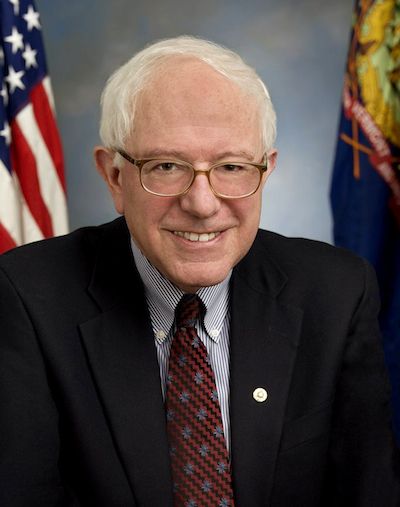 Senator Bernie Sanders has unveiled his latest policy proposal as part of his Democratic presidential campaign: Free public college, funded via a new financial transactions tax to discourage damaging Wall Street speculation. It's a step up from his earlier pre-campaign proposal of cutting tuition only in half. Here's a summary of his new plan:
Annual tuition costs at those institutions add up to roughly $70 billion, according to a fact sheet from Sanders' office. The proposed legislation would require the federal government to compensate for two-thirds of that sum, with the states making up the additional third.
[…]
The federal funding for Sanders's proposal would come from a tax on financial transactions. Stock trades, bonds, and derivative trading would be taxed at rates of 0.5 percent, 0.1 percent, and 0.005 percent, respectively. Supporters of the financial transaction tax […] say it is not only a progressive way to raise revenue but would also discourage dangerous levels of Wall Street speculation.

A recent report from economist Joseph Stiglitz and the Roosevelt Institute, intended to provide a comprehensive framework for reworking American economic policy, endorsed a financial transaction tax as a way to "penalize short-term traders and incentivize longer holding periods, thus reducing instability and encouraging longer-term productive investment."

Unfortunately perhaps the biggest pitfall of this plan — though it is (abstractly) an excellent starting point for a negotiation in Congress — is its dependence on state governments for a third of the funding. Low-cost public colleges and university educations are already being demolished in the name of dogmatic tax cuts. This plan depends on somehow convincing dozens of states not to slash funding / hike tuition and fees for their public colleges. But it's a lot better than nothing.
Related reading on…
– How much would it cost to make public colleges free?
– Corporate borrowing diverted to shareholders, not investment
– Putting Finance Back in the Box
– Stock market speculation
– Billionaire stock speculation