Arsenal Bolt: Quick updates on the news stories we're following.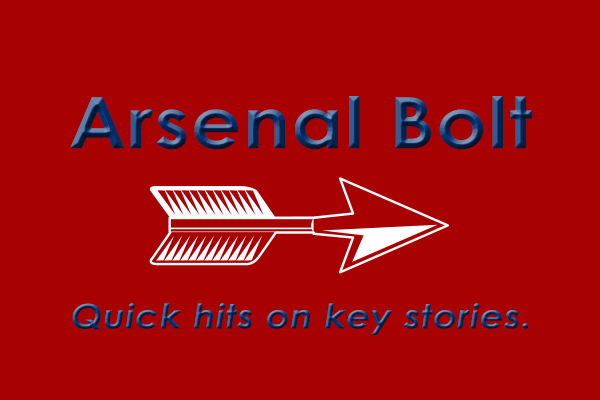 AP / Lebanon Daily Star: US-backed rebel group flees north Syria HQ after clash with Nusra:
Rami Abdurrahman, who heads the Britain-based Syrian Observatory for Human Rights, said members of the Division 30 faction fled to a nearby area controlled by a Syrian Kurdish militia. Abu al-Hassan Marea, a Syrian activist who is currently in Turkey near the Syrian border, confirmed Saturday that Division 30 fighters have withdrawn from their headquarters.

Abdurrahman and Marea said Division 30 had less than 60 fighters and that on Friday alone the group lost five fighters and 18 others were wounded.
[…]
On Friday night the Nusra Front said it attacked Division 30 and abducted some of its members because they were trained by the CIA and vowed in a statement to cut off "the arms" of the American government in Syria.

A U.S. military official seemed to deny any American connection to Division 30, saying on Friday that no member of a U.S.-backed rebel faction had been abducted.

Despite the denial of connection, the U.S. military appeared to have responded directly to the situation as it unfolded, according to CNN, based on a policy implemented days earlier:
Syrian rebels backed by the United States will now have air cover if they come under attack after President Barack Obama signed off on the decision, a senior administration official confirms to CNN on Sunday.
[…]
This comes after the United States conducted airstrikes last week to protect two groups after they came under attack: U.S.-trained rebels and the U.S.-affiliated rebels of the 30th division.

U.S. aircraft came in after the attack on a compound where members of the New Syria Force, which is the U.S.-trained-and-equipped rebel group, were located as well members of the 30th division.
---
Previously from AFD on these topics:
– Free Syrian Arms: The fall of the CIA's Harakat Hazm force against Nusra Front
– Will the U.S. become the Syrian rebels' air force?
– FT: "Syria rebels sceptical about Turkey's plan to tackle IS"
– U.S. agrees to clear a "safe zone" in northern Syria