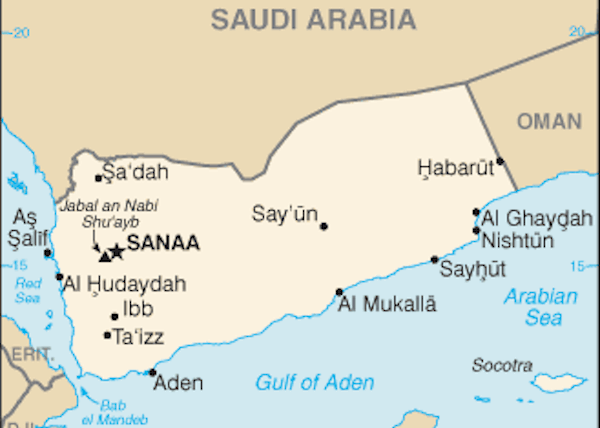 Saudi Arabia liberates and stabilizes Yemen like this:
"Dozens of al Qaeda militants were patrolling the streets with their weapons in total freedom in a number of areas in Tawahi [port district, Aden]. At the same time, others raised the al Qaeda black flag above government buildings," a resident told Reuters.

He said the flag was also flying over the administrative building of the port, although a port official later said that the flag was flying at the gate of the port's complex.
[…]
Yemen's Deputy Interior Minister Brigadier General Ali Nasser Lakhsha played down the threat posed by the gunmen in the Aden neighborhoods.
[…]
Residents say policemen and government army units are now largely absent from Aden, where services have lapsed and the ruins from earlier battles have gone unrepaired.

"All these guns and gunmen everywhere is a thing that Aden has never seen before…Fear is spreading that it will eventually give way to chaos, and more wars in the future" said Yemeni analyst Abdulqader Ba Ras.

That was on Saturday, August 23rd. They withdrew on Sunday after first trying to seize a military base. They still control the populous southern port city of Mukalla (see map above).

Rewind several weeks, to the start of Operation Golden Arrow, the ground campaign that followed the flailing four-month air campaign Operation Firmness Storm…
The Economist:
Bolstered by Saudi air strikes, factory-fresh armoured cars and special forces from a Saudi-led coalition of Arab states, Yemeni fighters—loyalists to the government that was toppled in March—surged into the port city of Aden.
The Emirati troops landed in the southern port city of Aden in recent days, bringing with them tanks and other armored vehicles, the officials said.
The deployment of 3,000 ground troops — 1,500 Saudi and Emirati personnel and 1,500 trained Yemenis — with main battle tanks and infantry fighting vehicles is a notable escalation in the Saudi-led coalition's involvement in Yemen. It is also a sign that Riyadh is willing to take additional casualties.

It's almost as if 3,000 GCC troops and a disorganized network of southern secessionists more obsessed with capturing the northern capital than with holding ground wasn't going to be able to stabilize the major city they had just recaptured… Oh, wait, that's exactly what happened.