Posted by Bill on behalf of the team.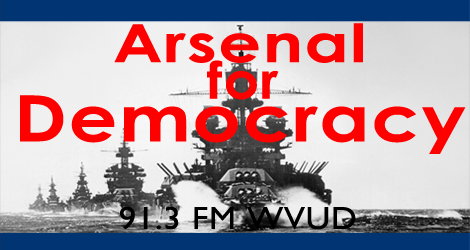 Topics: What the heck is going on in Syria these days? Who is Trump adviser Sebastian Gorka and which wing of Hungarian politics does he come from? People: Bill and Nate. Produced: March 6th, 2017.
Episode 172 (52 min):
AFD 172
Subscribe
RSS Feed: Arsenal for Democracy Feedburner
iTunes Store Link: "Arsenal for Democracy by Bill Humphrey"
Music by friend of the show @StuntBirdArmy.
Nate's Reading Corner:

– The Independent: Battle for Manbij shows Syria's civil war is almost over – and it looks like Bashar Assad has won
– Washington Post: Pentagon plan to seize Raqqa calls for significant increase in U.S. participation
– NY Times: U.S. Strengthens Its Forces in a Crowded Syrian Battlefield
– NY Times: U.N. Syria Mediator Reports Some Progress in Peace Talks
– LobeLog: Spotlight on Gorka's Controversial Medal
– LobeLog: Gorka's Plan to Defeat Terrorism: Buy Guns, Read Islamophobes
– Forward: Exclusive: Senior Trump Aide Forged Key Ties To Anti-Semitic Groups In Hungary
– Foreign Policy: The Curious Case of Sebastian Gorka, Trump's New Terrorism Guru
– Business Insider: Sebastian Gorka, Trump's combative new national security aide, is widely disdained within his own field
– Hungarian Spectrum: DONALD TRUMP'S INFLUENTIAL ADVISERS: SEBASTIAN AND KATHARINE GORKA
– Fusion: Trump adviser who claimed to be an expert witness in Boston bombing trial never actually testified
– Forward: Hungary Slammed for Award to 'Racist' Far-Right Journalist Zsolt Bayer
– Hungarian Spectrum: ZSOLT BAYER, THE PURVEYOR OF HATE, IN HIS OWN WORDS
– The Guardian: Daughter of US congressman among those returning Hungarian award
– Hungarian Free Press: Hungarians return national awards to protest racist Zsolt Bayer's medal
– Spiegel Online: Hungarian Leader Whitewashes Anti-Semitism
– The Budapest Beacon: Rewriting Hungary's history, Veritas holds third conference this year
Podcast: Play in new window | Download
Subscribe: RSS