Questioning a fundamental tenet of the Tony Blair mythos (and the Bill Clinton mythos).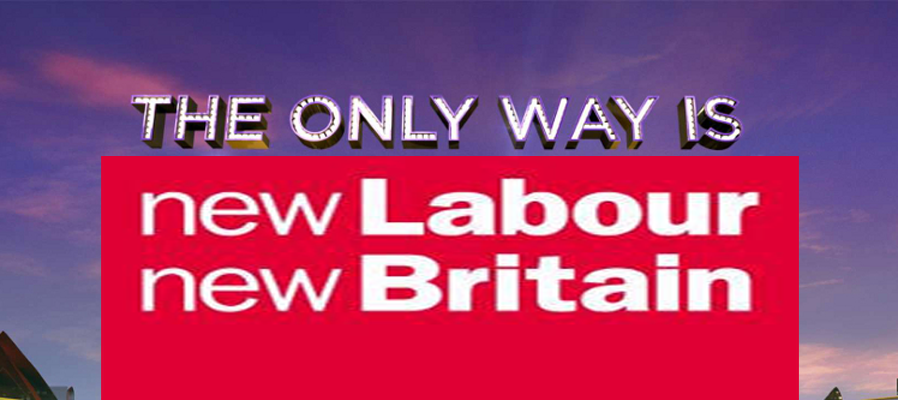 One of the major talking points put forward by Tony Blair allies (and the former Prime Minister himself) in the aftermath of the 2015 election fiasco and again now during the leadership contest with the rise of leftist Jeremy Corbyn has been that Blair's strain of Labour Party ideology ("New Labour") was superior to all others because he "won three elections in a row" with it and brought Labour out of its nearly two decades in the opposition wilderness. Blair's own snide phrasing, which he even dared to utter long before the election loss, was "a traditional left-wing party competes with a traditional right-wing party, with the traditional result" implying that a traditional left-wing party can't win elections (not that Labour ran a particularly or consistently left-wing campaign this year).
Similarly, we sometimes hear roughly the sentiment echoed in the United States with regard to Bill Clinton's centrist/triangulating Democratic Leadership Council (DLC) and the "New Democrats." Blair explicitly modeled his 1997 election campaign on Bill Clinton's 1992 and 1996 presidential campaigns (and Clinton's wider political philosophies), so there are always comparisons between the two. At minimum, they both ran on highly personality-oriented campaigns that claimed to be bringing a new direction to politics on the whole, not just to their own parties. Something transcending those "tradition" right and left alignments, supposedly.
Let's examine these dual contentions, though. Did the Democrats re-take the White House in 1992 because of Clinton's Democratic Party centrism? Did Labour re-take parliament in 1997 because of Blair's New Labour approach?
Blairites and Clintonites alike fervently believe that centrism is what won them power. I would contend instead that inevitability did. Eventually, the opposing major party returns to power.
Blair going centrist didn't "save" Labour from itself. Conservatives held power for 18 years. Prime Minister John Major's net approval rating across the early 1990s was in -60 to -20 range. The Labour leadership had higher net approval before Blair took over as opposition leader in 1994, and Major's net approval really fell off a cliff even before Blair's ascent. I would conclude from that that any reasonably competent politician (left or center) could have led Labour back to power in 1997 after a whopping eighteen (bleak) years of Conservative rule. (True, leadership ratings are not wholly predictive at the ballot box, but they're indicative of strengths or weaknesses in broad terms.)
By comparison, Democrats panicked after losing the White House only 3 times in a row in merely 12 years (1980, 1984, 1988). In all likelihood, rota fortunae (the ever-rotating wheel of fortune), not DLCism, won the White House back for Democrats in 1992. The relatively centrist Democratic Congressional caucus also kept shrinking before and after Clinton's ascent to power, eventually leading to the loss of its House majority in 1994 for the first time since the 1950s. It's a little hard to square that fact with the Clinton hype.
Much like Prime Minister Major, of course, President George H.W. Bush was struggling with rather low popularity by 1992. Where the year before his high ratings had deterred every single top-tier Democrat from challenging him (leaving Clinton to emerge startlingly from the third tier), by July 1992 George H.W. Bush had the approval of less than 30% of Americans. Not a ringing endorsement for him, and also not really a function of anything Clinton was doing. I believe a reasonably competent progressive Democrat — anyone who could connect with voters on their top concerns and tap into their frustrations — could have won the White House in 1992.
"Inevitability" is, of course, a loaded word in politics. But I'm speaking in broad, big-picture terms based on historical and structural realities. The odds were very low that, in both the U.S. and the U.K., during the 1990s, the major left-leaning parties (Democrats and Labour respectively) would completely wither away and die out as a major party. Thus, regardless of ideology, they would have remained the only serious voting options for people who had lost patience with the incumbent governments. Eventually, in democratic systems, people always get tired of single party rule and change horses.
That's why three terms in a row for one party to rule is already relatively unusual, 4 terms is rarer, and 5 almost never happens. At a certain point, how far left/center/right your party runs in a breaking-point election becomes pretty irrelevant in a system dominated by two parties. People get frustrated enough to vote for the opposition party automatically. It doesn't even take that long, considering just 12 years seems to be a pretty common point for voters to jump ship.
Republicans have learned that fact very well and used it to their advantage to continue winning elections with ever-more conservative platforms. Rather than giving up and moderating, they just wait it out and organize for the next moment of frustration in which to bring extreme candidates into office to enact steadfastly conservative agendas.
Read more