Arsenal Bolt: Quick updates on the news stories we're following.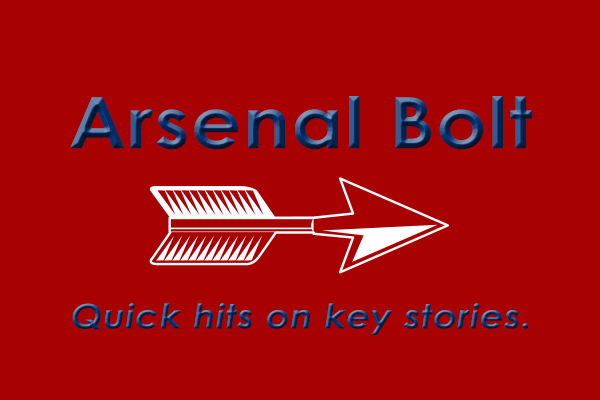 "The Effort to Divert Class War Into Generational War: Lessons On Economics You Won't Get from Jeff Bezos" – Center for Economic and Policy Research, Dean Baker on Friday:
Lesson Three: Our Children Will Only be Hurt by the Debt Because the Washington Post and Other Elite Types Will Use it As An Excuse to Cut Necessary Spending

Okay twenty somethings, how do you know about our massive debt? Yeah, it's more than $18 trillion, can you feel it?

You surely can't feel it from its economic impact. Interest rates in the economy are at their lowest level in more than half a century. Thirty year mortgage rates are hovering near four percent. They were generally in the six percent range back at the end of the 1990s when we were running budget surpluses and making plans to pay off the debt. Interest rates on car loans, student loan debt, and credit card debt are correspondingly lower today.

How about the raging inflation caused by the debt? Well, the Federal Reserve Board has been working hard to raise the inflation rate back towards its 2.0 percent target.

What about the enormous amount of money that has to be diverted from other spending to meet the interest burden? Current interest costs, net of payments from the Federal Reserve Board, come to less than one percent of GDP. By comparison, the interest burden was more than three percent of GDP in the early 1990s. (That's what lower interest rates will do.) If a twenty something claims that they can feel the economic impact of the debt, it is time for some serious drug testing.

Now there is clearly a political impact. The Washington Post, and other Very Serious People, has hyped the debt endlessly. They have raised fears over the debt to prevent spending that would both help boost the economy back to full employment and meet our needs in areas like education, infrastructure, research and development, and addressing global warming. The damage done by the Very Serious People's scare stories about the deficit is in fact a very big deal. But it is a bit over the top to blame this one on the older generation as an age group, even if most of the Very Serious People gang is older.