Middle East alphabet soup of harmony: ISIS brings together PKK and KDP, with AKP blessing, in a fascinating turn of events for the Middle East.
The respective military wings of Kurdish Workers Party (PKK) from Turkey and the Kurdish Democratic Party (KDP) from Iraq, which essentially hate each other, are now working together in Iraq against ISIS.
The President of Iraq's Kurdish region, Massoud Barzani, visited fighters of the Kurdistan Workers Party (PKK) for the first time last week, after the PKK joined Kurdish Peshmerga forces to expel the Islamic State group from the town of Makhmour.

In a video published online, Barzani thanked the PKK fighters: "We are brothers. They [Islamic State fighters] are the enemy of the people of Kurdistan. We have one destiny; we will do everything, what we can," Barzani said.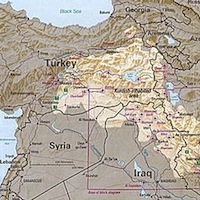 The Iraqi ex-insurgency KDP has often sparred directly with — and even allied itself militarily against — the PKK insurgency in Turkey for many years. This is partially due to infighting, as two of the three biggest Kurdish factions across the region, over who is the "leader" of the pan-Kurdish national liberation movement (if one exists) in Iraq, Syria, Iran, and Turkey. But it's also due to Turkey's tendency to threaten the Iraqi Kurds if they are seen as helping the PKK. After a while, it just became easier to oppose the PKK out of self-preservation. Plus, since Turkey is a NATO member, all the NATO members including the United States are supposed to support Turkey's counterinsurgency operations against the PKK separatists. Since the US is the main international supporter of the Iraqi Kurds, including the Kurdish Democratic Party, aiding and abetting the PKK was a big no-no.
Read more